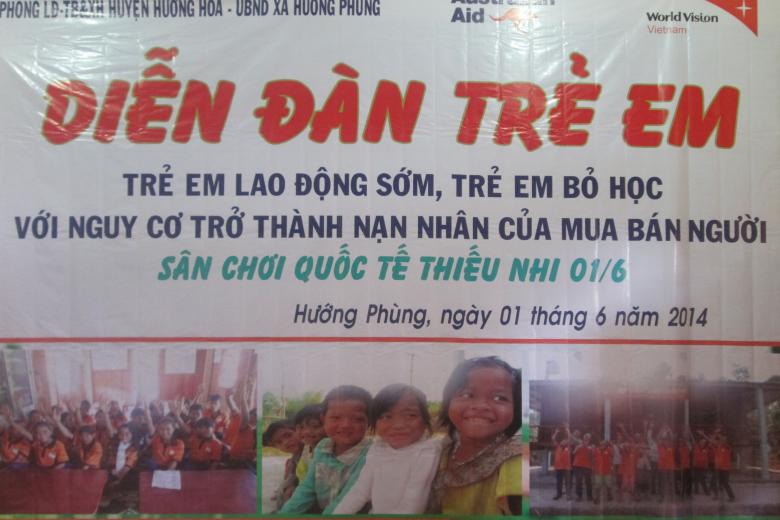 A Call to Stay in School and Stop Child Labour
Tuesday, June 24, 2014
Written by Bui Thi Viet Ha – ETIP Programme Assistant, Huong Hoa ADP

Parents and local authorities must do more to prevent children dropping out of school and starting work at an early age because this increases their risk of becoming victims of human trafficking.

Such was the message running through a forum for local children in Huong Hoa district, Quang Tri province, held on 1 June to mark International Children's Day. More than 200 local leaders, children and their parents – of whom 60 percent belong to the Van Kieu ethnic minority group – participated in the forum.

The event – co-organised by World Vision's End of Trafficking in Persons (ETIP) Programme and the local government – allowed the children present to openly question local leaders about issues concerning them. Among their questions were who to contact if they are pressured to leave school and perform laborious work, how local leaders have dealt with the situation, and what the local Child Protection Committee has done for youngsters in the area.

After discussion, the young spokespeople made a number of suggestions to the local officials, such as having more outdoor play activities focused on life skills, running more sessions to raise awareness of child labour and leaving education prematurely, and operating children's clubs better. The young attendees also called for more funding for child-related activities and for members of the Child Protection Committees to closely supervise parents' actions.

To emphasise their points, the children presented two short films, entitled 'Let's do appropriate work' and 'No future if you leave school early'. Produced by members of the children's clubs in the district, the films highlighted real-life stories of local children who have to do physically demanding work and have left school early, as well as the reaction of the local authorities.

"The young people at this forum have delivered their messages confidently and raised awareness of their concerns," commented Mr Hoang Van So, Deputy Head of the Education and Training Department of Huong Hoa district. "In response, we'll work closely with World Vision to have more playgrounds for children in remote areas."

In Huong Hoa, it is a commonly held view of both adults and children that it is normal and acceptable for children as young as nine to do tasks such as harvesting coffee beans or maize and fetching water.

Local statistics show that about 30 children in the area drop out of school every year. However, the number of those who are at risk of dropping out must be higher. It is also challenging for local teachers to encourage former pupils to return to school because their families are often poor and live in isolated locations.