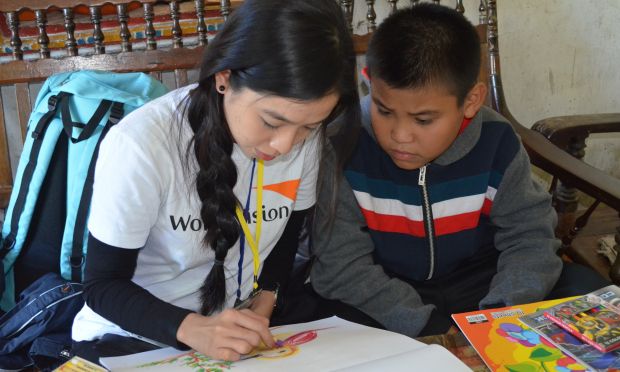 Khanh likes drawing the most, everything, everytime. His most favortite depicts a vast sparkling lake, with mountains blurring a far, and boats floating like leaves on the the water.
That is his hometown, the hydropower lake on the Da river. That is also his road to school everyday. 20 minutes on engine boat to cross the lake from his house to the secondary school of Tan Dan commune, Mai Châu district, Hoa Binh province.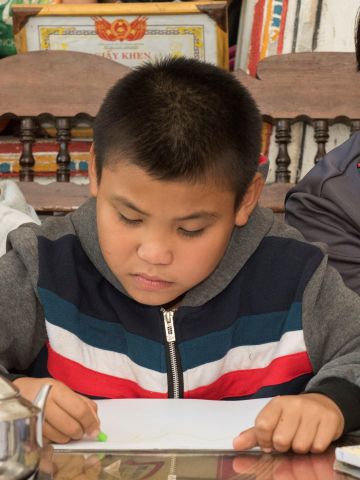 Despite the picturesque view of the lake, Khanh's road to school is not smooth at all. On stormy days, he can't even make it.
Moreover, 11 year old boy has a respiratory illness, which makes him constantly too sick for school. Khanh caught this illnees after a failed emergency case when he was just 18 days old. Due to the early pneumonia, he now has a permanent asthma.
Whenever the weather gets rough, Khanh has bad cough. Medicines from the health care center can only hold the cough for a while. In order to cure the illness, Khanh must be treated at a provincial or municiple hospital, like in Hoa Binh town or in Hanoi. Such trip, including expenses for traveling, food and accomodation, check-ups, medicines, not mentioning any specialized treatment, can cost up to 500 USD, far from what his parents can afford.
In his lakeside mountainous village, his parents and other villagers have just a few choices of jobs to earn living, either cutting bamboos or planting rice, corn and cassava. The best they can earn each month is about 50 USD. They are getting more and more in debt to pay for their son's treatment.
Thus Khanh has to skip class a lot. He is sad about it. With his breaking voice, he says he wants to go to school, he wants to become a doctor, for he has had enough with sickness. He knows he has to excel at Biology to become a doctor. It is also his favorite subject beside drawing.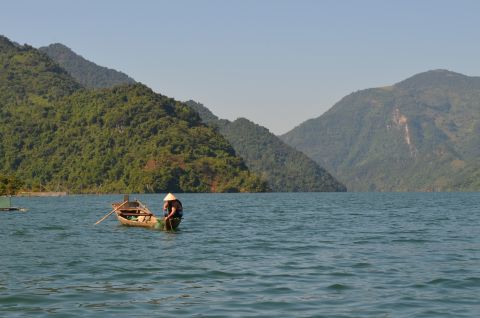 His condition makes Khanh an MVC in Mai Chau ADP. The program helps him with learning tools and books to keep him from lagging behind too far.
Khanh is also a sponsored child. His sponsor is a young man in Malaysia named Jordan. Khanh and Jordan exchange letters often, Jordan sends gifts and Khanh sends his drawing.
With the burden of Khanh's illness, and his older brother also in school, his parents can hardly dream anything big. They only wish for a more convenient way for Khanh to go to school, especially to the hospital in emergency.
Leaving the village is out of question, they can never afford it. Thus they expect a concrete road to be built so that they can connect with the hospital more easily. Khanh's future rests alot on whether his health condition improves.