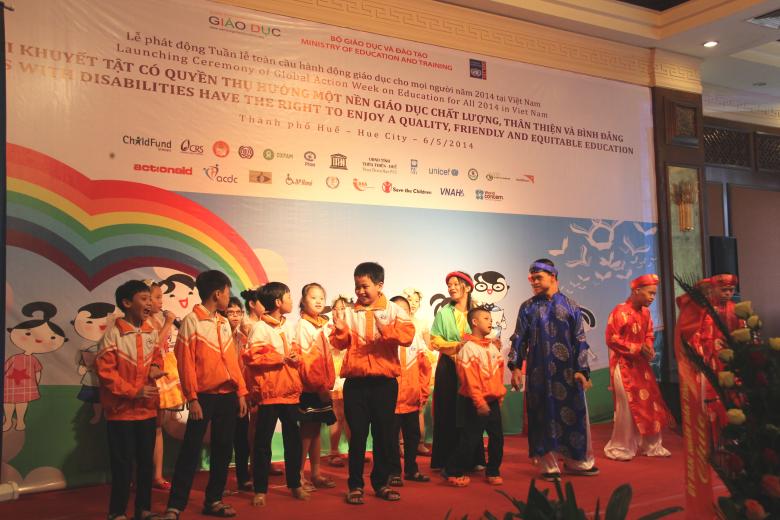 Equal Right, Equal Opportunity: Education and Disability
Monday, May 12, 2014
This article is a part of the press release from the Global Action Week on Education.
 
Vietnam's Ministry of Education and Training in cooperation with local and international organisations including World Vision has organized thematic Global Action Week on Education activities under the theme of "Education and Disabilities: Equal Right, Equal Opportunities."

With the slogan "Persons with disabilities have the right to a quality, friendly and equal education", the campaign aims to enhance the implementation of policies, programmes, and measures to ensure a quality inclusive education, enabling people with disabilities to overcome barriers to their access to education and to realize their right to education.

The national event of the Global Action Week on Education was held in the ancient city of Hue on May 6. Deputy Minister of Education and Training Nguyen Thi Nghia and local leaders of Thua Thien Hue province attended the event. Participants were also representatives from UN organizations (ILO, UNESCO, UNICEF, and UNDP) and international and local NGOs including ChildFund Vietnam, Catholic Relief Services Vietnam, Oxfam UK, Plan International, Vietnam Coalition for Education for All (VCEFA), World Vision, Save the Children, Viet Nam Assistance for the Handicapped (VNAH), World Concern, ActionAid, Action to the Community Development Center (ACDC), Hanoi Disabled People Association (DP Hanoi), Hanoi Association of the Deaf (HAD), Inclusive Development Action (IDEA) and Vietnam Association for Promoting Education (VAPE).

Meanwhile, 9,500 people joined similar events that were held by World Vision in Yen Bai, Thanh Hoa, Quang Tri and Quang Nam provinces. They included students with disabilities, those from ethnic minority groups, their parents, teachers and local leaders.

As Vietnam is undergoing a radical and comprehensive renovation of its education system in order to build a learning society, education should be more inclusive to enable people with disabilities to lead a dignified and fulfilling life with the fullest development of their competences, creativity, and talents to make greater contributions to society.

Vietnam is currently in the process of ratifying the UN Convention on the Rights of Persons with Disabilities (CRPD) after its signing in 2006. Inclusive education is the key mechanism to deliver the right to education for all. Vietnam has a legal framework supporting inclusive education for children with disabilities over the last decades.

The Ministry of Education and Training (MOET) has also issued documents regulating early intervention, inclusive education and education for children with disabilities.  Annual documents guiding the implementation of yearly school missions at all levels specify issues of education for people with disabilities in the national education system, giving priorities to learners with disabilities in higher education recruitment.

In addition, ministries and departments have issued policies on Information and Communication Technology (ICT) for people with disabilities, stipulating that there are to be no barriers for people with disabilities in new and public buildings.

These documents provide a legal basis to enhance programmes and policies supporting people with disabilities in achieving equitable access to learning opportunities at all levels and to provide incentives to teachers and administrators involved in caring for and educating children with disabilities.

However, there are still gaps in implementing these policies at the national and sub-national levels. Learners with disabilities still face challenges due to the lack of trained teachers and administrators, difficulties in accessing school buildings due to inflexible arrangement, inaccessibility to public spaces, and lack of facilities, teaching aids, and materials on sign language for the people with hearing impairment.

Therefore, measures that need to be implemented include further mobilizing children with disabilities to school, improving the quality of inclusive education, and enhancing and innovating content and methodologies in the training of teachers. At the same time, it is imperative to enhance coordination between departments, sectors, organizations, communities, and families in educating children with disabilities.

An estimated one billion people live with a disability, comprising approximately 15% of the global population. It is estimated that 93 million of these are children. People with disabilities have an equal right to education, yet millions of children with disabilities in the world have not enjoyed that right.