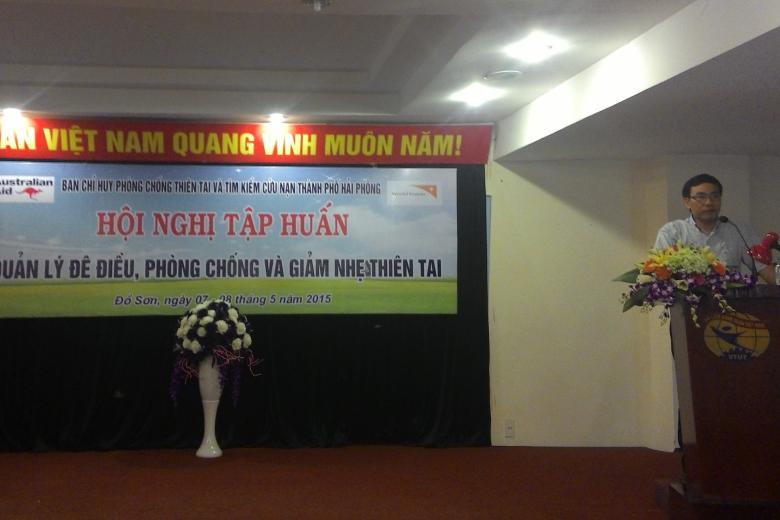 Preparing for natural disasters
Friday, June 5, 2015
More than 100 in-charge people and community members attended a training course on maintaining and monitoring dyke system in Do Son district in the northern coastal city of Hai Phong on May 7.

The course aimed at enhancing the participants' capacity in the face of the approaching typhoon season.

"The training is timely and essential as the city is included in the 2015's super typhoon response scenario. The event will help the locals maintain their dykes and prevent natural disasters more effectively," says Nguyen Ba Tien, Head of Dyke Management Department and a member of Hai Phong Steering Committee for Natural Disaster Prevention and Control. 

World Vision-implemented Hai Phong City Resilient to Climate Change and Disaster Risks (HRCD) project and local department of dyke management, flood and storm prevention and control jointly organised the training.

More than 100 in-charge people and community members attended the training course on maintaining and monitoring dyke system.

A day later, the HRCD project and relevant local authorities hosted a workshop on Vietnam's new law on natural disaster prevention and control, and preparation plan for natural disaster response, searching and rescuing in the district.

Among the updates were the renaming of the steering committee to Steering Committee for Natural Disaster Prevention and Control (formerly Floods and Storms Prevention and Control), the mobilisation of local businesses and social and political organisations in responding to natural disasters and fundraising for disaster management.

More than 150 people who are members of the steering committees for natural disaster prevention and control at district and village levels participated in the event.

Photo and Vietnamese text: Cao Phan Viet – HRCD Project Manager