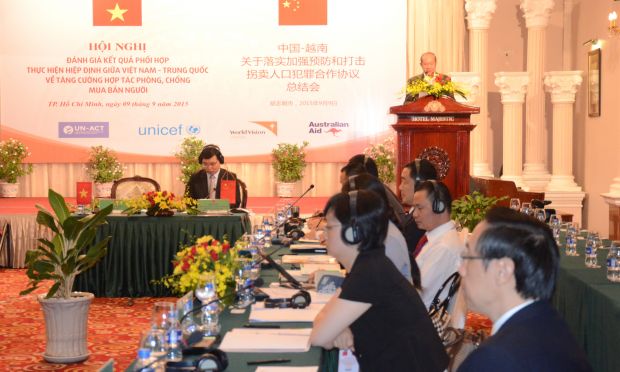 Vietnamese and Chinese Governments evaluated their bilateral agreement on the fight against human trafficking at an annual meeting held on September 9th 2015 in Ho Chi Minh City.
According to the report presented by Vietnam's Ministry of Public Security at the meeting, the police identified over 700 cases of human trafficking to China, arrested more than 1,000 traffickers and rescued nearly 1,000 victims between 2013 and mid-2015. Most victims came from the northern provinces of Ha Giang, Lao Cai, Lai Chau, and Cao Bang.
The report also showed that many Vietnamese people collude with Chinese people to create trafficking rings to China in the form of meeting, choosing a mate or having fake marriage. They take advantage of social media and mobile phone networks to deceive women and little girls including schools girls and university students. Men, children, infants and even fetuses are being sold to China.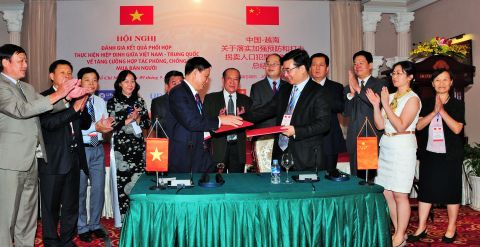 At the meeting, the government of two countries focused on addressing challenges related to creation of victim identification criteria and cooperation plan in 2016. The meeting was held with the support of United Nations Children's Fund (UNICEF), United Nations Action for Cooperation Against Trafficking in Persons (UNACT) and World Vision in Vietnam.
Prior to the meeting, World Vision Vietnam-implemented End Trafficking in Persons Program (ETIP) in cooperation with other international organisations in Vietnam and Asia's ETIP worked on recommendations for victim identification criteria and cooperation plan between two countries in 2016 and submitted it to the Ministry of Public Security. The ministry's leaders appreciated their efforts and recognised the important roles of international organisations in human trafficking prevention as well as committed to considering the recommendations.
World Vision is implementing ETIP in six countries of the Greater Mekong sub-region, namely Vietnam, China, Cambodia, Lao PDR, Thailand and Myanmar. In the future, ETIP program will continue to support Vietnamese Government in negotiation process to finalize victim identification criteria and standard repatriation process between two countries.
Text and photos: Le Viet Anh – Advocacy Coordinator of End Trafficking in Persons Program (ETIP)