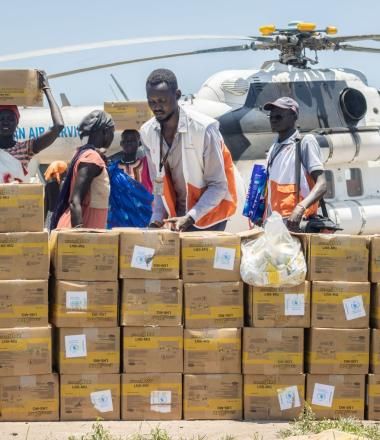 World Humanitarian Day 2023
#NoMatterWhat
When lives are on the line. When disaster strikes. When children are starving.  
Humanitarians are there. 
Today we celebrate them for providing aid, food, shelter and protection in some of the world's most dangerous places. 
#NoMatterWhat #WorldHumanitarianDay 
Humanitarian Voices.
Just as it takes a village to raise a child, it takes a whole community to help people in need. In an emergency, the first people to respond are always crisis-affected people themselves. We take a moment to reflect on  community leaders, volunteers, faith leaders, community health workers, and others  who work for and with World Vision to the benefit of vulnerable children around the world who work for and with World Vision to the benefit of vulnerable children around the world.
Over 122 million more people are facing hunger in the world since 2019 due to the pandemic and repeated weather shocks and conflicts, including the war in Ukraine, 

339 million people

will need humanitarian assistance in 2023 –65m more than in 2022, a 25% increase.

This equals 1 in every 23 people on the planet.

It is estimated that between 691 and 783 million people in the world faced hunger in 2022.
It is projected that almost 600 million people will be chronically undernourished in 2030. This is about 119 million more than in a scenario in which neither the pandemic nor the war in Ukraine had occurred, and around 23 million more than if the war in Ukraine had not happened.
Worldwide in 2022, an estimated 148.1 million children under five years of age (22.3 percent) suffered from chronic malnutrition, 45 million (6.8 percent) suffered from acute malnutrition. 
After 20 years, forced displacement shows no sign of slowing. More than 1 per cent of the world's population — or 103 million people — are displaced. About two thirds of refugees and asylum-seekers originate from countries with food crises. Disasters and extreme weather events, such as flooding and drought, are responsible for the majority of forced displacements worldwide.
Violent conflict continues to take a heavy toll on civilians, especially when explosives are used in populated areas. Children remain especially vulnerable, and the number of attacks on schools and hospitals has increased. Violence against aid workers is increasing, and 98 per cent of those killed were working in their own country.
The effects of conflict, climate change, and the ongoing indirect socioeconomic impacts of COVID-19 are interacting to wreak havoc in the lives of individuals and communities while also creating new and worsening existing hunger hotspots, reversing gains families had made to escape poverty, and escalating the need for humanitarian assistance and humanitarian workers. 
Today we celebrate humanitarians like Mary.
World Vision's Global Hunger Response Director Mary Njeri shares insights into her career at World Vision, and her experiences in the field.
"I applaud good neighbours who have gone out of their way to share the small they have with those most in need. To me these are the first line humanitarians and remind me of the Good Samaritan, in the Bible, who went out of his way to help a person in need, though he was from a very different ethnicity, culture and religion. He did this without caring who got to know of his actions, whether the person helped would be grateful or what was in it for him. This is the true humanitarian."
World Vision Humanitarians in Action.
Here's how World Vision and our partners are responding:
In 2022, 157 million people were reached with at least one form of aid; that is 50 million more than in 2021. World VIsion reached 29.6 million people; roughly 18% of global total. Of those 14 million are children. 
In just over three years,  we have reached almost 85 million people providing humanitarian assistance. 
In South Sudan, our emergency assistance in response to the hunger crisis has reached 2.15 million people in 21 counties, providing them with food and lifesaving assistance. 
Amid the surging violence in Democratic Republic of Congo, World Vision has delivered emergency food to thousands of survivors, who had fled their homes. In partnership with World Food Programme, we have distributed emergency food rations to more than 18,700 people.
We have been responding to the needs of children in emergencies for more than 70 years 
Meet Tejan, a child advocate with World Vision Sierra Leone, who discusses Climate Change and Hunger
World Vision Crisis Responses
At World Vision we respond to hundreds of emergencies large and small every year to help vulnerable families survive.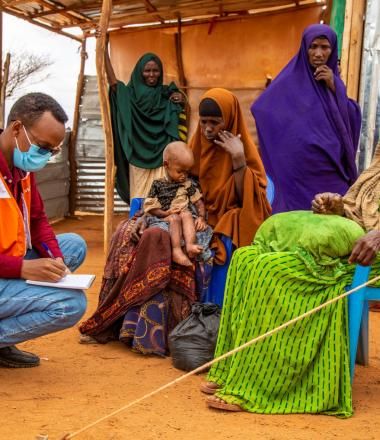 Get Involved
You can also be a Real Life Hero and touch a person's life in crisis somewhere in the world. It takes a village to make a change. Join us and let's change the world together.