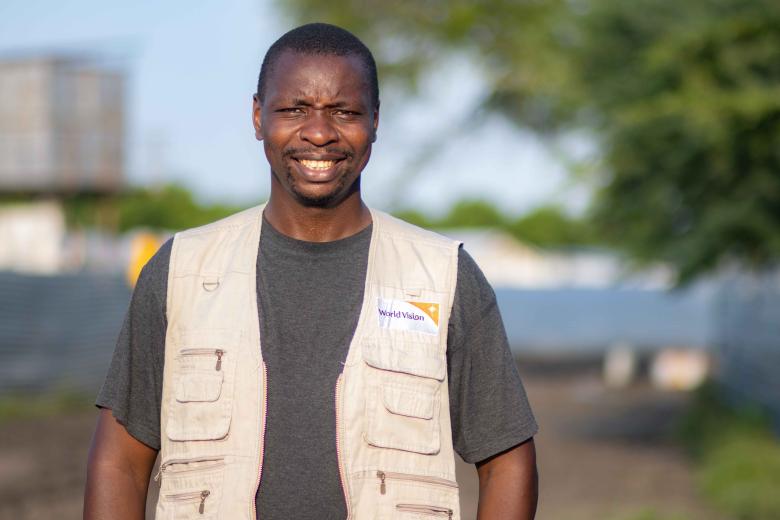 Benard: A hero and a humanitarian
Wednesday, August 11, 2021
Benard Nyataya is an emergency responder who delivers food in South Sudan's most dangerous places- places where most people dare not enter. He is a real-life hero. A World Vision humanitarian.
Below he tells us about the challenges and risks he faces in order to deliver aid to South Sudan's most vulnerable people.
Conflict
The toughest part of the work is in managing the risks both for the people we serve, our staff and the aid we handle. Complexities of South Sudan's conflict mean that community clashes can erupt anytime without any warning.
One time when we got deployed to distribute food in Nassir County, a part of Upper Nile State, we woke up in the early morning hours to an armed attack in the community.
The sound of rapid gunfire, explosions at close range, counter attacks, women wailing and children crying, domestic animals running for dear life. Our team was caught in the midst of the chaos. This is just one of the countless memories that are tough to forget.
Wild animals and theft
With the recent drought, cases of wild animals straying into the team's campsite hunting for livestock have been on the increase. Though a communal guard is nominated to protect and support the team, the camping tents have no strong protection that can ward off a direct wild animal attack such as a stray donkey, even lions, marauding at night. And, animals are not the only threat at night, intruders and thieves can also find their way into the campsites.
The river deliveries are complicated during the rainy season as most areas become flooded with no safe place for offloading the commodities. The makeshift distribution pads have to be created out of water lilies and plastic sheets. The river is also infested with crocodiles and there have been reported incidents of humanitarian boats colliding with crocodiles. 
Witnessing heartbreaking poverty
The Riang Boma community in Ulang County gets pretty dry in most parts of the year. The area has no trees, and depends on small temporary depressions in the land that hold water to survive. Upon the team's arrival, the women sang and danced.
One woman could not contain herself and burst into tears sharing how she had run out of options for feeding her children. She had lost her husband in the war. 
She said she had boiled grass and other leaves for the children. She even said she occasionally starts a fire late in the evening to give the children the impression that something was being prepared. In the process, they would sleep hungry and waiting. This was he only way she could get them to sleep.
When she received her food ration composed of sorghum, split peas, vegetable oil and some nutrition supplements of corn soya blend, she came to say thank you and asked us to always remember them. 
Risks of air-dropping food
Food deliveries by air and river have their strategic advantages as well as their challenges. The airdrops are massively expensive and requires a high level of alertness and trust with all the stakeholders involved. Dropping the bags has the risk of them landing outside the designated drop area and onto households which could result in damages or fatalities.
So far, we have not had any incidents though experiences elsewhere have shaped our experiences. The thought of carrying a 50 kgs bag to a collection point in time for the next flight which at times is within an hour or less of each other puts a lot of pressure on the women who form the bulk of the labour force.
The airdrops also mean camping in unfamiliar territories, in the middle of the bush and isolated from the rest of the world. Often, these areas have no connection and with bad weather, back up flights can be delayed for days, or weeks.
Logistical challenges
Due to logistical challenges, World Food Programme (WFP) in partnership with World Vision, can only deliver the assistance bi-monthly for over a period of six months between March and August through a combination of air, river and road deliveries.
The lean season emergency response is meant to cushion the community from sliding back into negative coping mechanisms (eating potentially poisonous food, forced migration, going without food or stealing) as they await harvest that is largely dependent on rain fed agriculture.
Without this support, the chances of the people resorting to harmful coping strategies and extreme level of food insecurity is high.
More than basic food rations are needed
My appeal is that we strengthen the multi-sectoral approach whereby other key areas, such as education in emergencies, rebuilding and rehabilitation of schools, scale up of vocational trainings and other livelihood activities are initiated so as to support the process of community integration.
Currently most children at a young age are forced to cross borders into neighbouring countries to study. Often, this highly favours the boys and leaves out the girls. A percentage of girls being sent is very low which is disempowering the girl child. 
Loss of colleagues
We sometimes lose some community volunteers who help us in the distribution. It becomes personal as these people were part of the team, shared our challenges and accomplishments, for a long time. 
After the peace agreement was signed, the working conditions significantly improved. But many of the operational areas remained active conflict areas as warring sides are within the reach of each other. 
Working with other humanitarians rapidly responding to desperate need
I started as a food assistance officer for the rapid response team about nine years ago. The idea behind the rapid response team was to have a fully-integrated response unit that could be deployed within the shortest time possible (72hrs) into hard-to-reach areas where few would be willing to go.
The units would be placed within the country making them more efficient and cost-effective. The team was made up of logisticians, nutritionists, food monitors, and safety and resilience officers, ICT personnel to support with technology all drawn from the national pool. I have a lot of respect for women who sacrifice in order to be a front-line worker.
They have to battle against their male colleagues and are not given preferential treatment, yet they deliver exemplary results. Knowing well the cultural barriers that they have to scale yet they do it with a smile. There are situations where they gain more acceptance and trust. 
I moved from the rapid response team to the food assistance team in 2017. I am passionate about my work and hope I can continue to help South Sudan's most vulnerable people, in the most difficult places to reach for years to come.
Learn more about the work World Vision is doing to meet the needs of the most vulnerable in South Sudan.