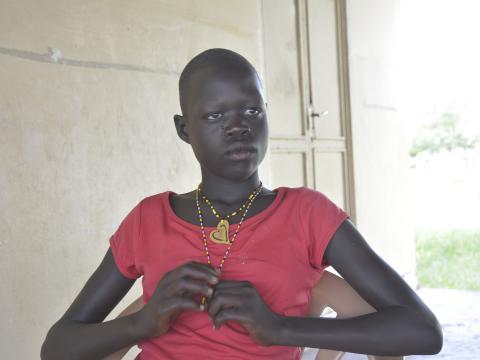 South Sudan's conflict continues to impact lives of children like Jenifer
Sunday, July 22, 2018
By Lisi Emmanuel Alex, Communications Officer 
The second episode of the fighting in 2016 in South Sudan left many children in desperate life because their families cannot support them with even the most basic of these things such as food and education. Most of the families do not want their children to work but often they do it as the last option to survive and earn a living.
Jenifer is a 15 years old girl suffering from the consequence of the conflict. When the fierce conflict started in Juba around July 2016 that quickly escalated to the other parts of the country, Jenifer and the rest of the family members left their home with nearly nothing. They were living right in the vicinity where it happened. Along with the thousands of people seeking safety, they finally settled in Don Bosco internally displaced people's (IDP) camp run by the Catholic Church.
Although the food was distributed to the people, it was extremely difficult to get other personal necessities like the sanitary pads for the girls. On May this year, Jenifer decided to work so that she can support herself. She started by washing utensils in different restaurants and later shifted to selling water in the streets of Juba.
"I work every Saturday from 7:00 in the morning to 5:00 in the afternoon. I sell locally purified drinking water to people on the streets. At the end of the day, I will get paid between 600 to 700 South Sudanese Pounds (USD2.4 - 2.8)," she said.
Jenifer adds, "I am using the money to support myself in school. I also buy soap and sandals but my mother also tries to work to help support the family." She further says, "I help my mother and use part of it to buy my needs. I am not required to give the income I earn but I do so to avoid argument in the family."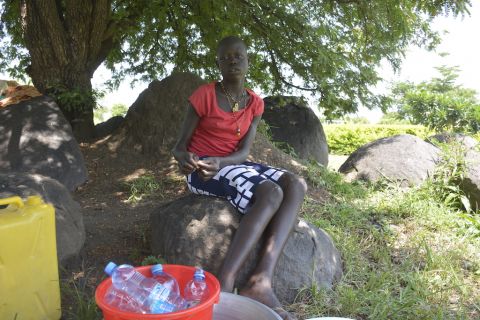 Carrying bottles of water the whole day is a difficult work for young girls to do. They will have to carry them on their heads for about nine hours for a day. Such activity will definitely affect their health and growth. "I put 25 bottles of 1.5 liters and 60ml of drinking water in a bucket and carry it on my head all day long. I sell up to about 125 bottles a day and by the time I reach home, I feel a chest pain," Jenifer shares.
Jenifer explained that although both parents are alive and still strong, they do not have any way of supporting her. "I have no desire to do this kind of work but I am doing it because nobody is helping me yet I need many things", she says. There is a free school for the IDP children at Don Bosco and Jenifer is currently in primary five. She is more determined to study because she is the only girl left in the family after the sister she followed got married last year.
Her elder sister had to marry so that the dowry is used for paying the school fees of her brother (the first born) who is currently in his final year in form four. "I don't want the same thing to happen to me. I want to study and become a doctor so that I can help other people," Jenifer adds with conviction.
Some of the girls in the IDP camp decided to work because they stay with a single parent yet they need help. On her free time after school, Jenifer makes necklaces and bracelets out of colorful beads for herself and the sisters. She has good skills of designing them and has learned the skills of doing for the neck, waist and hand.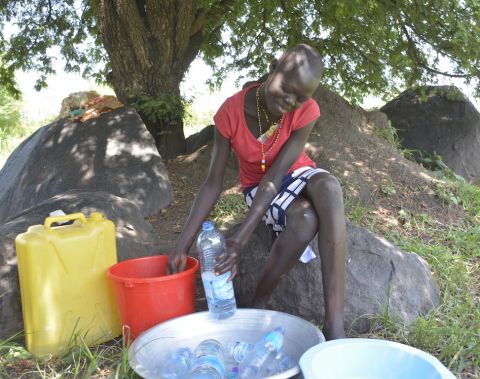 World Vision in 2016 established a Child Friendly Space (CFS) in Don Bosco to enable the children to heal from psychosocial issues they have experience from the conflict. The place has a designated area and facilities for them to play. Currently, there are 700 children in Don Bosco CFS and Jenifer is one of them.
"When I go to the CFS, I like playing volleyball and skipping rope.  We also have football and building blocks. Each child enjoys playing what he or she like most," says Jenifer. "Besides giving the children games to play, we also support them to participate and learn from awareness activities on gender-based violence, hygiene and psychosocial recovery," says Saidi Simon Ben, World Vision's Child Protection Monitor in Don Bosco.
Saidi added that the most common concerns experienced by children in Don Bosco IDP camp are abuse, early marriage, sexual assault, denial of opportunities such as education and child labour.  
The CFS is aimed to raise greater awareness of the rights of children, and promote behaviour changes that help prevent different forms of violence, abuse, neglect and exploitation against children from occurring, especially sexual and gender based violence. These spaces are also important to provide a safe space for children to play, build positive social skills, and to recover from what they have experienced.  
"Every day, children experience different forms of violence in South Sudan. This places them in a precarious situation, and tragically affects their future development," remarks Lyndsay Hockin, World Vision South Sudan's  Senior Protection & Gender Advisor.
Hockin continues, "supporting girls and boys, and their parents, to learn about children's rights can help bring an end to violence against children, while providing a safe place to express themselves or receive psychosocial support is essential to their recovery. World Vision is committed to working together with communities to protecting the future generation."