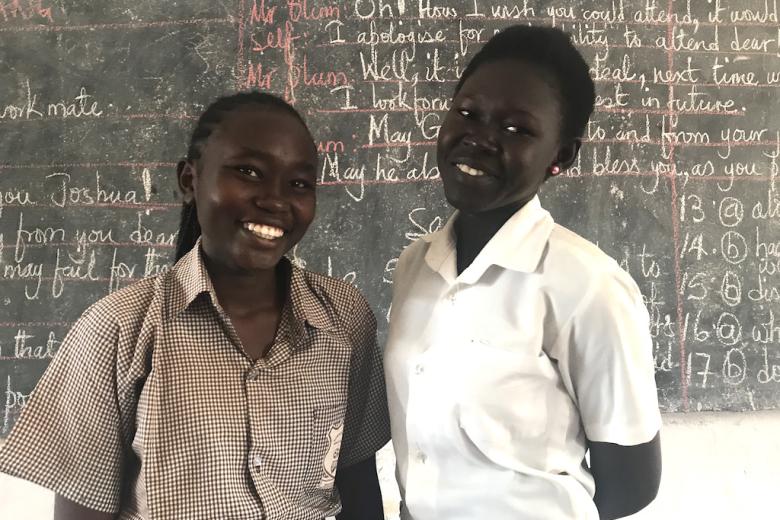 The way to peace begins with healing and transformation of South Sudan's children
Thursday, January 31, 2019
"We are reminded to love one another", replies 19-year old Priscilla Adut when asked what is the most important lesson she learned attending the peacebuilding, trauma counselling and psycho-social healing activities being supported by World Vision in 152 schools and churches in South Sudan.
Adut is among the 12,875 school children participating in these activities being initiated by 104 volunteers which include values education, provision of learning materials, volunteers' trainings, monthly fellowships and Bible Quiz competitions.
Naba, 16, who studies in Munuki Primary Center won last year's competition besting participants from 10 schools in Juba. Ali says, "As we learn about the Bible, we also learn to love one another, even our enemies."
World Vision's Angelo Mathuch with Naba and Priscilla. His story, he hopes, will continue to inspire many South Sudanese children to hope and work for their future.
The 3rd of 10 siblings, Naba adds, "Gathering together and preparing for the competition inspires us and helps us forget about problems we face". Children in South Sudan like Naba have daunting challenges. A UN study found out that around 2.2 million children are out of school making it among the highest in the world.
The study raises an alarm that if situation in the country does not change, the children deprived of education can increase to 2.4 million. Out of the country's 12.9 million population, an estimated 6.1 million suffer from food insecurity.
Faith and Development Coordinator Angelo Mathuch, whose story as a former child soldier inspired many, says, "We are talking about countless number of children here whose return to classes is no longer an option. They, like many of their parents, wake each day up thinking what can I or my child eat today?"
Volunteers Peter Joseph and Sebit Alison (far left and far right, respectively) with school head teacher Manoah Bataal (middle) organize students to meet regularly every week.
"And you know that when most of the children are reduced to that state of mind, their future get on a precarious track to obscurity, dis-inheritance and petty crimes. Our job is to reach as many children as we possibly can with hope-filled actions", he adds. 
Mathuch emphasized that the activities promote respect and understanding among children of each other's faith and beliefs to help build peace in the country.
Head teacher Manoah Bataal said that every 2-3 days, children meet in groups and share what they have learned from the readings in the Bible. "The Bible teaches them about respect for the elderly and brings them closer to their families", Bataaly explains.
Volunteers Peter Joseph and Sebit Alison of the Scripture Union of South Sudan support at least 40 schools and struggle to reach the areas without transport. Joseph shares, "We often share one motorcycle owned by another volunteer. If not, we have to do our work by walking." Both are however encouraged by the growth of their work.
Alison says, "This work with children is crucial for the ongoing peace process in the country. It promotes forgiveness and loving one another." Part of the values education discourages children the practice of tribalism and instill in them that they are all children of God belonging to one nation.
Mathuch concludes, "I get excited sharing my own story with those determined like Priscila to remain in school and know that there is God who cares even when they feel utterly abandoned."