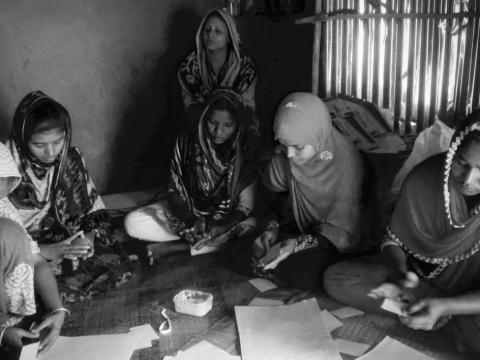 The bag ladies of Bangladesh
Sunday, March 20, 2016
As the Karnaphuli River veers towards Chittagong, it sweeps past Noyapara, a poverty-stricken community in the Hathazari hills east of the port city where most residents depend on farming, women are housewives, and many girls are denied to education.
World Vision supports 16 community-based organisations (CBOs) across Hathazari, assisting them to run group businesses.
The World Vision Hathazari programme area has supported the CBOs for some time, but the businesses were struggling due to a lack of marketing knowledge and market links. To overcome this, World Vision's team helped the CBO members develop business plans to produce women's bags and cardboard boxes.
The 20 female members of Noyapara's CBO learned how to make handbags, while 26 others learned how to produce paper shopping bags. They also learned about marketing and bookkeeping.
After successfully completing the sessions, the women purchased raw materials from the market to start their businesses. Jesmin Akter, treasurer of the Noyapara CBO, explains that the group invested the money equivalent of 320 US dollars to make paper shopping bags.
The members of the microfinance-driven CBO have recruited a manager and two sales staff, while also joining forces with World Vision and other local women to establish a center for early childhood care and development within their premises, which now boasts 20 young learners.
World Vision's local economic development manager says: "In this group business, there are 10 producer groups. They now have access to the local market and … [the] model is being replicated by World Vision in other areas of Bangladesh."
Story by: Md. Golam Ehsanul Habib