Child Protection and Participation
Background
More than 85 percent of children faced corporal punishment or psychological aggression (SDG report, 2020). There is no child participation in any development process in 73 percent of union parishads (Uddin, 2009).
GOAL
To reach the most vulnerable children through community-based and community-empowered programmes that focus on changing the environment in which children live. Protection of both boys and girls from any form of abuse, exploitation, neglect and violence is a top priority.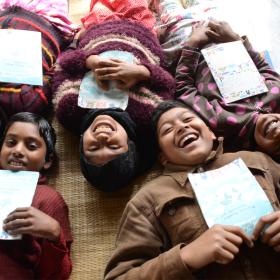 Outcomes
Children, parents and communities are empowered in protecting children from abuse, neglect, exploitation and violence.

Enhanced collaboration with public and private sectors, national and international agencies, and strong positioning in relevant platforms.

Strengthened systems and structures at all levels to protect children from physical, psychological and gender-based violence.

Improved social integration and environment to promote gender and child-sensitive behavioural practices in families and communities.
OUR TARGET (2021-2025)
4,495,931 children, adolescents and youth will participate in action that support ending violence against children.
Impact
child marriages prevented by child and youth forum members, faith leaders, and local Child Protection (CP) committees
19.2 increase in positive and peaceful relationships between children (12-18 years) and their parents/caregivers (Impact Assessment, 2021)
people reached through child protection interventions in FY-21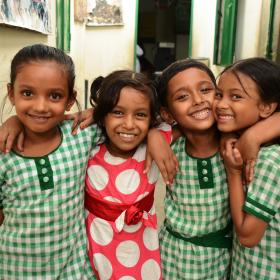 Our Approaches
To prioritise the empowerment and engagement of children and adolescents in key decision-making programmes to ensure the eradication of violence against children.
This is done by:
Keeping children engaged from childhood to adolescence: From age 12 to 18 years, children are involved in World Vision's child forums. After they turn 18, they are graduated to youth forums, thereby having access to World Vision's resources and assistance through the critical points of their early lives.
Targeting inter-generational poverty: Through the child protection and participation programme, we aim to integrate the youth of Bangladesh into leadership positions in their communities so that they can seek and create transformation and sustainable change geared towards eradicating systemic poverty.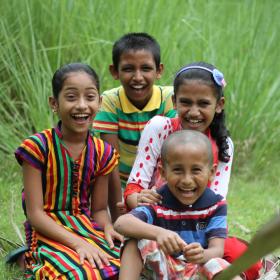 CORE PROGRAMME MODELS 
Child Protection Systems Approach: This approach addresses child protection holistically, bringing greater focus on violence prevention and strengthening the assets of key actors responsible for child protection. These key actors include government agencies, civil society, parents, caregivers, other family members and community structures.
Child Protection and Advocacy (CP&A): This approach provides a comprehensive framework for child protection at community levels and the establishment of evidence-based advocacy efforts at national, regional and global levels.
Channels of Hope for Child Protection (COH-CP): This is a World Vision methodology that motivates and builds capacity in faith leaders to address child protection issues including abuse, neglect, exploitation and harmful practices around communities. It advocates for children's rights, promotes positive discipline, strives to prevent other forms of violence, and fosters a wider enabling environment for formal and non-formal child protection methods.
Celebrating Families: This model seeks to ensure that families, especially families in vulnerable conditions, enjoy positive and loving relationships and are able to have hope and vision for their future. The programme provides skills and knowledge to people of influence in a child's life to create a safe and nurturing environment for children within their families and communities. 
World Vision supports the initiatives of the government and we work in partnership to strengthen the implementation of national child protection programmes. Through the Child Protection and Participation Programme, World Vision is taking steps to achieve SDG 5: Gender Equality, SDG 8: Decent Work and Economic Growth, SDG 16: Peace, Justice and Strong Institutions and SDG 13: Climate Action.