Background
The country-wide lockdowns made necessary by COVID-19 had a devastating impact on children's education in Bangladesh. As of September 2020, the dropout rate of secondary level students jumped to 36 percent, while the dropout rate for girls alone reached 42 percent. Children with disabilities were especially deprived of getting a proper education.  
GOAL
Increase access to education programmes for children, especially in vulnerable communities. Ensure that children are safely learning through relevant, meaningful and protective formal or non-formal education pathways.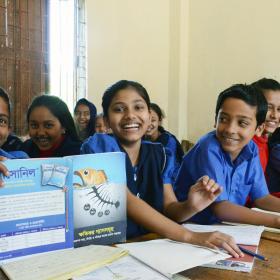 Outcomes
Improved learning and development for children

Basic literacy and numeracy skills for children

Strengthened government system and stronger networks for primary education
OUR TARGET (2021-2025)
564,605 children will be addressed through literacy interventions to achieve a minimum proficiency level in reading.
Impact
of parents regularly communicate with school teachers (Rapid Assessment Education, 2021)
of parents give additional time to children's study(Rapid Assessment Education, 2021)
adolescents (815 boys and 666 girls) reached through the Impact+ model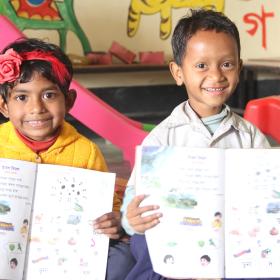 Our Approaches
To ensure that all children, especially children with disabilities and exposed to vulnerable conditions, have the opportunity and resources they need to learn.
We do this by approaching the problem on three dimensions:
Individual

(Access, PSS and SEL learning outcomes and development milestones.

Community

(Parents' and communities' skills and competency)

System/Service provision

(Engagement with government agencies and donors, safe and nurturing schools, teacher training and support)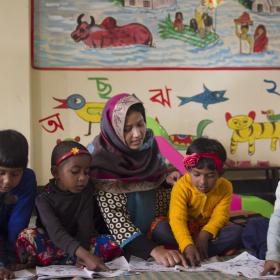 CORE PROGRAMMING MODELS 
Education programme operates on three major models: 
Go Baby Go!: A play-based model that focuses on parents and other caregivers learning early childhood care and stimulation for children aged 0-3 years.
Learning Roots: A child-focused programme that uses methods to foster holistic, cognitive, physical, social and emotional development as well as preliteracy and pre-numeracy skills that engage parents, caregivers and staff in programmes for children aged 3-6 years.
Unlock Literacy: A programme that builds on foundational reading skills for children aged 6-9 years. The programme promotes learning at home, better teaching methods at school and community-wide support to promote literacy.
Other enabling project models related to education include menstrual hygiene management, celebrating families, channels of hope, citizen voice and action, promotion of accessibility, equity and inclusiveness in schools, safe and protected learning during emergencies, safe and nurturing schools and the Girl Vision model.
World Vision supports the initiatives of the government and we work in partnership to strengthen the implementation of national education policies. 
World Vision Bangladesh is in partnership with government education bodies, faith leaders and families to discourage child marriage and instead promote lifelong learning and skills development in schools and at home. World Vision's education programme is aligned with SDG 4: Quality Education for all.