GOAL
World Vision Bangladesh aims to include faith leaders in creating positive dialogue surrounding child development and protection so that they can use their influence in communities for the betterment of children's lives.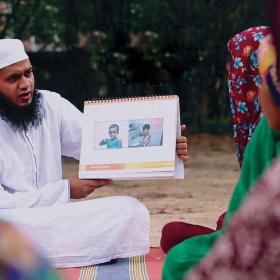 Outcomes
To transform the lives of vulnerable and poor communities through addressing deeply entrenched, superstitious beliefs using a positive lens.

Create positive influence to empower people to challenge their circumstances and break free of poverty.

Start dialogues that clear misconceptions surrounding issues like child marriage, child labor, corporal punishments, prohibition of girls to attain higher education, etc. and promote healthy and holistic child development.
OUR TARGET (2021-2025)
Enhanced community peace, harmony and wellbeing of the most vulnerable children through scaling up faith-based models and approaches.
Impact
19.2% increase in positive and peaceful relationships of children (12-18 years) with their parents/caregivers (52.7%, Impact Assessment 2021: 33.5%, Baseline Survey, 2021)
increase in positive and peaceful relationships of children (12-18 years) with their faith leaders (35.8%, Impact Assessment 2021: 12.3%, Baseline Survey, 2021)
girls and Boys reached by programmes/activities aimed towards building trust and communication with their peers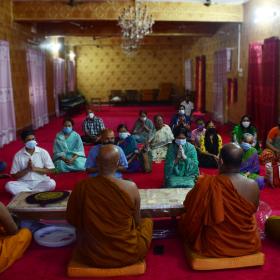 Our Approaches
To help families and communities break free from negative social norms and develop positive environments for children, World Vision works extensively with faith leaders and institutions and includes them in the organization's models for achieving fullness of life for all children.
We do this by:
Building and nurturing inter-departmental collaborations

to include the faith models into every program to ensure a holistic approach to child development.

Driving internal and external engagements with key development agencies, donors and partners

to ensure our faith-based approach can be implemented across our joint programs with external bodies.

Evidence building, routinely monitoring and reporting

on our approach to create community trust and maintain transparency and accountability.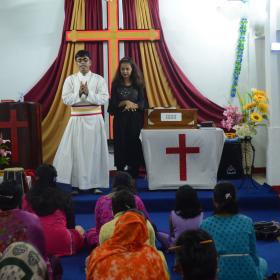 CORE PROGRAMME MODELS
Channels of Hope (CoH):

a signature program model that equips faith leaders with factually or correct information and insight from sacred scriptures and faith traditions. 

Dare to Discover Approach:

This model was developed after a series of dialogues with children and youth. It inspires them to use the positive tenets of faith to change their worldview and become self-reliant individuals capable of leadership. 

Celebrating families: This model helps parents with positive parenting rather than harsh and punitive measures for raising children. 
Children's moral development guide: This model focuses on the cognitive, mental, social and spiritual growth of children in early childhood. The model targets children between 3-5 years of age.
Do no harm local capacity for peace: This model brings together leaders of different faiths to focus on common goals and address issues related to local conflicts, disunity, distrust, lack of peace, and unjust competitions that harm children's self-esteem. 
Empowering children as agents of peace: This model strengthens the learning capacities of children and adolescents on peacebuilding.