Humanitarian and Emergency Affairs, DRR, CCA and Response
Background
Bangladesh is ranked the seventh most vulnerable country for disaster and climate change on the Global Climate Risk Index in 2019. The country experiences an average of 200 natural disasters every year. The crisis facing the Rohingya refugee children and their families is currently without sustainable solutions. Furthermore, the COVID-19 pandemic will leave lasting impacts that will make the situation much worse for the refugees.
GOAL
To create a strong network that will provide immediate support and relief to disaster struck areas. Also, to slow the spread of COVID-19 and reduce its impact on vulnerable children and families.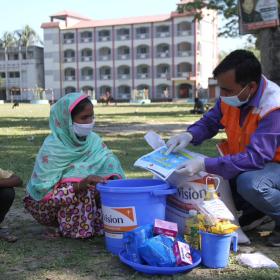 Outcomes
To ensure that communities take care of children's well-being.

That families and communities are made resilient enough to protect children from emergencies and disasters.
Impact
people including 143,672 children reached through emergency response programmes
people including 84,249 children reached through Disaster Risk Reduction programmes
staff and volunteers trained across the country on disaster management, DRR and CCA
OUR TARGET (2021-2025)
330,842 children will be addressed in different protection interventions across World Vision Bangladesh's programmes.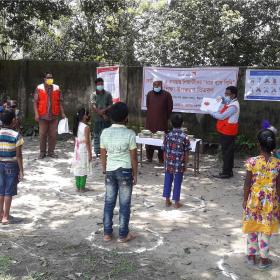 Our Approaches
World Vision operates on a "first in, last out" approach in humanitarian response and intervention. This is done by:
Responding with life-saving emergency aid

in the instance a disaster strikes.

Focusing on key areas

such as Food Security, WASH, Shelter, Health and Nutrition, Education, Livelihood, Protection and Financial Aid.

Protecting the rights of disaster affected people

especially children, people with disabilities, the elderly, pregnant and new mothers, women-headed households, extreme poor and marginalized people and socially excluded groups.

Ensuring accountability in providing services

by engaging the community and local government authority in every stage of disaster response and management.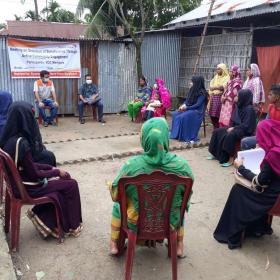 CORE PROGRAMMING MODELS
Humanitarian and Emergency Affairs   operates on four major models: 
Cash-based programmes in emergencies: We are committed to expand cash-based programmes wherever appropriate to empower communities to spend according to their needs. In cash-based programmes, the private sector is an integral partner that strengthens local markets.
Technology-based interventions: In emergency responses, we use technology based interventions. These include the Last Mile Mobile Solution (LMMS), KOBO and Mobile Money Transfer (MMT) for cost-effective, improved, faster and fairer aid distribution and reporting.
Community-based disaster risk reduction and management (CBDRM): We aim to implement comprehensive community-driven CBDRM project model at all our working areas to reduce their vulnerabilities and enhance capacities to cope with shocks by preparing for and mitigating impacts of hazards.
Climate change and adaptation: We focus on and promote climate change adaptation programmes to make resilient communities. We also build awareness around disaster vulnerabilities and their reduction.