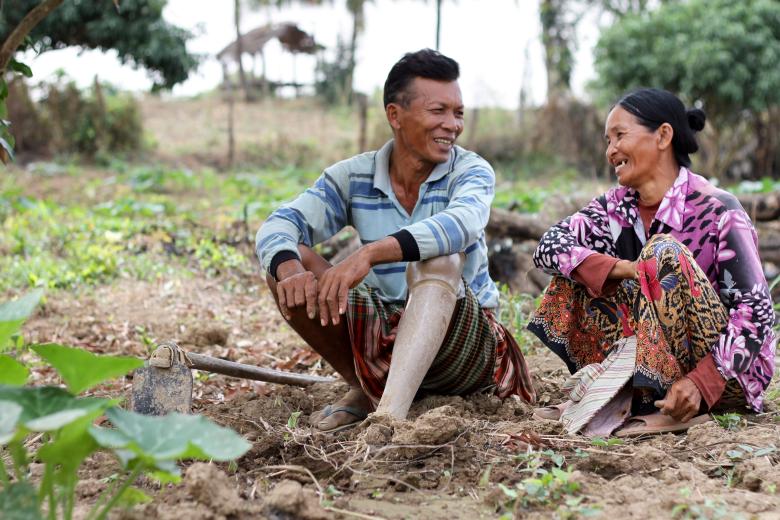 Battlefield to farming field
Saturday, February 20, 2016
Mr. Hok, now 51 and a farmer, was just a child when his country was shattered by the civil war between the state and Khmer Rouge in the late 1970s.
Though he survived the initial conflict, it caught up with him as a young man in 1991.
A blast rang out from the south of the village. Banan, where he lives, is one of many former battlefields in Cambodia. The villagers guessed that a cow had stepped on mine.
But it was Mr. Hok.
"I did not know that I stepped on mine, I just realized that I could not move my leg. I was sent to hospital immediately," he recalls.
Since then he's tried to move forward using his prosthetic leg, but is not able to work as fast as before.
"I did not know that I stepped on mine, I just realized that I could not move my leg."
"I was so stressed since I could only plow two hectares while the others are could to do three hectares," says Mr. Hok. He makes a living by growing rice and vegetable.
In 2000, World Vision programming was introduced to his village. Their first project was a relief emergency response.
"We were happy to have the food since I have many family members, nine children," says Mr. Hok.
To ensure the sustainability of the community, World Vision has introduced many projects. Because of his physical disability, Mr. Hok was identified and invited to attend an agricultural training on growing cucumber and chilies with the Agriculture Cooperatives for Sustainable Community Economic Development (ACSCED).
World Vision provided him with equipment like piping for a drip water system and technical agricultural training.
As a farmer for years, growing cucumber was a new experience. Previously he had grown eggplant, pumpkin, corn on a half hectare.
Even as Mr. Hok and his wife were reaching their 50's, they were so confident with their new skills, they dared to double their productivity on more land, one hectare.
"I think I can do it," says Hok.
"We want to see the villagers practice and apply their skills after learning and also sharing the knowledge with their neighbors. I am excited to see the changes in the community," says Lum Orng, a local World Vision staff member.
Mr. Hok only finished the 3rd grade before becoming a soldier, so he did not have an appreciation for education. And while his older children did not attend higher education, he dreams that his youngest son Ramo, 15, will be able to thanks to the greater yield he is enjoying from his farm.
"I believe that I can support his education as he wants," says Hok. "I encourage him to study hard."
--------------
by Chetra Ten, Communications Officer
World Vision International-Cambodia