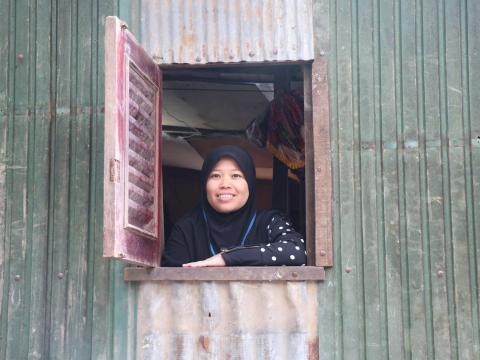 Defying Gender Stereotypes, One Skill at a Time
Wednesday, January 24, 2018
Saniyas lives in a Muslim minority community beside the Bassak River in Preak Pra commune, Phnom Penh City. Her parents were unable to earn regular income, so the family's financial issue forced Saniyas to leave school at grade 5 when she was 12 years old.
As the second daughter among 11 siblings, part of her responsibilities is to support the family, so she forced herself to work at a garment factory. But her salary was low and insufficient to support her family.
"My first salary was $45 USD per month; it was too little to buy food for a month," said bright-eyed Saniyas.
Due to lack of income, Saniyas was convinced to work in Malaysia as an illegal worker at a plastic and garment factory. She earned $300 USD per month and sent money to her parents in Cambodia, hoping to support her siblings' meals, schooling and health care.
Fortunately, her life soon changed for the better when World Vision introduce her to vocational training.
"I sent almost all of my money to my parents for their debts and other family expenses," says Saniyas.
On her second trip to work in Malaysia, Saniyas was arrested by immigration police because her passport expired. She was temporarily detained for three months and sent back to Cambodia. 
"It was the worst experience that I never imagined," she said.
Saniyas met her husband while working together in Malaysia, and the two married in 2015. They bought used wood to build a small house on a tiny piece of land near the riverbank at her hometown.
Her financial situation seemed to worsen after marriage. She became pregnant and her husband worked as a tuk tuk driver with low income.  
Fortunately, her life soon changed for the better when World Vision introduce her to vocational training. Saniyas felt hopeful.
"It seems my dream has come true. When I was little, I always asked my mum to buy me a zigzag sewing machine," she said in her soft-spoken way.
I can work at home and look after my child at the same time.
After working hard during the six-month sewing course supported by World Vision's Youth, Leadership and Livelihood (YLLD) project, Saniyas received a zigzag sewing machine which allowed her to make different kinds of simple trousers and traditional Muslim wear.
Being a fast learner and natural talent, Saniyas is getting busier with pre-orders from customers in and outside her community. Her business is growing due to her good service. 
"I have $200 to $300 USD monthly in savings, on top of my husband's irregular income. I can work at home and look after my child at the same time," she said with a smile. Saniyas is now five months pregnant with her second child
"If I didn't learn this skill, I would have just stayed at home to care for my child, or I would have attempted to work in Malaysia."
Cambodia's gender stereotypes dictate that women are expected to stay at home and look after their children; through this project, women are able to generate income for their families. 
"My older brother became a teacher in Indonesia and another younger brother is a lecturer in another province," continued Saniya.
Even if she could not do as her brothers did, what she has learnt is a bridge to being financially independent, which is in contrast to the Cambodian words "women belong near the kitchen stove".
"From now on, I won't go to work outside the country. I will expand my business and improve my skills so that I can design and make nicer Muslim clothing," she says with hope.
With support from the Department of Foreign Affairs and Trade (DFAT) and co-funding from World Vision Australia, the YLLD project has facilitated pathways for 249 youths in the Cambodian labour market for both wage and self-employment in the last three years, by equipping them with the necessary technical, financial and entrepreneurial skills. 
In early 2018, 214 youths (including 11 female youths) were selected and are now being trained in different in-demand technical skills such air-condition repair, electrical repair, elevator repair, welding and auto-mechanic engine repair, as well as soft skills, in partnership with technical and vocational education and training institutions such as the Cambodian-India Entrepreneurship Development Institute (CIEDI) and Cambodian-Thai Skilled Development Institute (CTSDI).
In addition, the project has trained 57 self-employed youths (including 38 female youths) who have existing small businesses with new knowledge on financial, entrepreneurial and business skills. Together with these skills, the youths were provided with a start-up fund based on their business plan to help them along.  
This story is written by Ratha Ung, a Communicator with World Vision.