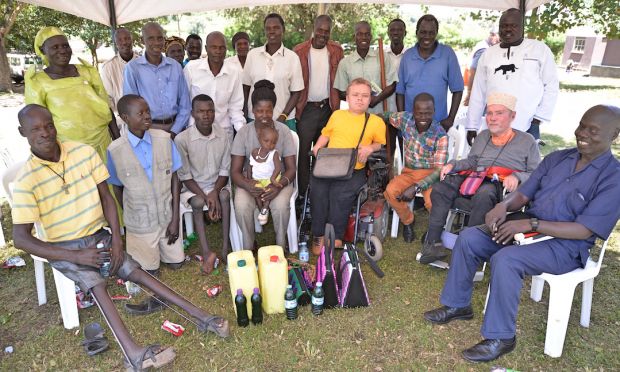 40-year-old Juma is just one of the over 796 disabled refugees living at Palorinya refugee settlement in Northern Uganda. Crippled from birth, Juma had always lived with family and close relatives. But in October 2016, something tragic happened that left him separated from his family. His village in South Sudan had fallen under attack.
Sporadic gunfire in Africa's youngest nation had caught Juma's family members away from home, seeing him flee to Uganda with well-wishers.
''Life had always been hard for me but when I became a refugee things worsened. It's one thing to be a refugee and another to be a disabled refugee. None of the other refugees understood my challenges; everybody was occupied with their own struggles. All of a sudden I had to take full responsibility over myself and do things I wasn't used to. I had to cook for myself, wait in long queues for water and use public latrines that are not accessible to PWD's [person with disabilities],'' Juma narrates.
Juma's traditional family networks and social support systems that he depended on almost his entire life were all but gone. He now had to establish a new life. A challenge he painfully embraced. The last 13 months have been some of his toughest.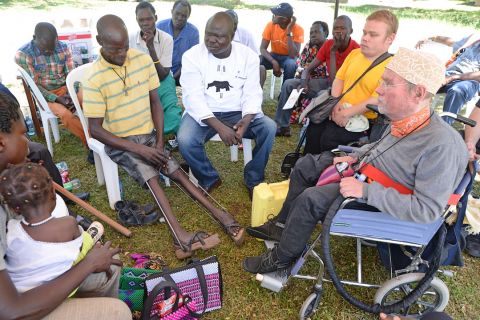 ''Movement is my greatest challenge here. The surface inside the settlements is so rocky and rough. I can hardly crawl and yet I need to move in order to access services. Most of the public facilities like toilets and health centers are also not accessible to PWD's. Besides, there are lots of insects like scorpions inside the settlement. One has to always be on the lookout as they crawl,'' Juma adds.
Juma's condition is regrettably not unique at Palorinya refugee settlement. It is the most common ordeal among the PWD's there. The majority have a feeling that they have been forgotten.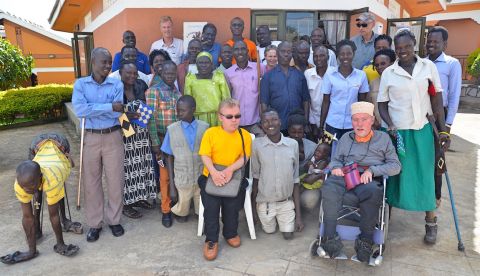 When fighting broke out in South Sudan, many of them were abandoned and left behind simply because they couldn't run. It takes good Samaritans to help them reach the Uganda border.
But all is not lost. There is still light at the end of Juma's tunnel.
With funding from the Government of Finland, World Vision is now empowering PWD's like Juma with various life skills to enable them become self-reliant. The PWD's are receiving skills in backyard gardening, liquid soap making, weaving beaded products such as hand bags and purses, making craft shoes plus assistive devices. Plans are also underway to provide income generating equipment like grinding mills to PWD groups at Palorinya.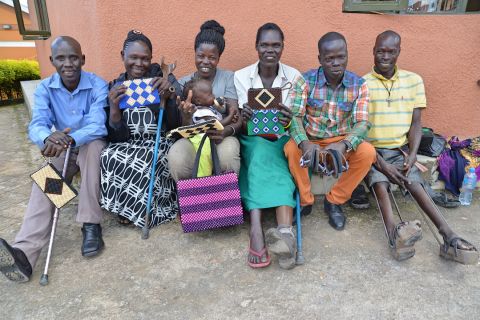 Juma himself learnt how to make beaded hand bags, money purses and liquid soap.
Since the trainings begun in August 2017, he has been able to sell some of his products at local markets near the settlement. His customers are mostly host community members.
''I am making some little income from it. At least am able to buy a few house hold items like soap, sugar and am also able to have a change of diet. My only challenge now is where to buy the raw materials. Currently there are no suppliers selling these raw materials at Palorinya. World Vision gave us some after the trainings but that was to help us start production. We now have to order from Arua or Kampala. This takes close to 3 days of waiting and thus affecting the business'' Juma explains.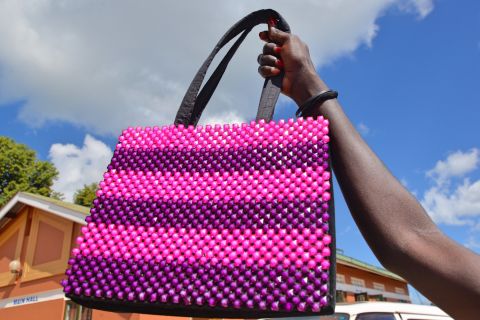 Juma's beaded hand bags sell for UGX50,000 (USD$18). In addition to providing life skills trainings to PWD's, World Vision is also constructing inclusive water points and public latrines that are accessible to Persons with disabilities. All these facilities have been installed with wheel chair ramps to make them accessible to PWD's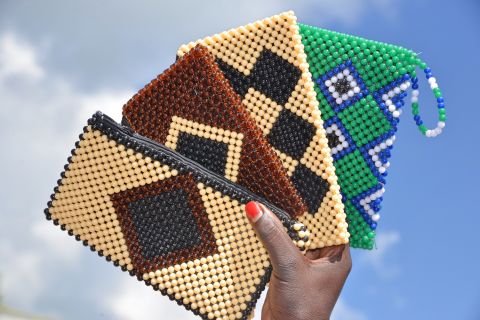 Livingstone Onen the World Vision project coordinator for the inclusive WASH program in Palorinya says the project is targeting both refugees and host communities.
"Agencies need to holistically incorporate PWD concerns in all mainstream programs. As World Vision we want to see PWD's engage in income generating activities so that they are able to earn some income and thus meet some of their basic needs. Majority of them have expressed desire and willingness to engage in commerce. All they need is support in terms of skills, capital and tools.'' Onen says.
In October 2017 the PWD's at Palorinya received two rare visitors from Finland, who came to learn more about their challenges.
The two, Kalle Könkkölä and Tuomas Tuure are PWD's themselves working with the Ministry of Foreign Affairs in Finland to champion global causes for persons living with disabilities. They use motorized wheel chairs to move but Kalle also requires assistive breathing devices connected to an oxygen container day and night.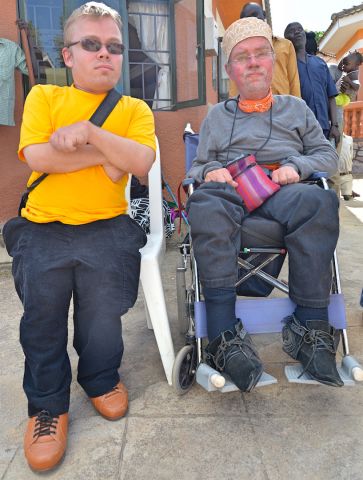 Tuomas Tuure (left) and Kalle Könkkölä
In Finland, the two are well-known public figures, role models and advocates for people with disabilities. Kalle Könkkölä is also a former member of parliament in Finland and the current Executive Director of The Threshold association, a cross-disability organization which focuses on the basic and human rights of persons with disabilities. Tuomas Tuure is the organization's development coordinator.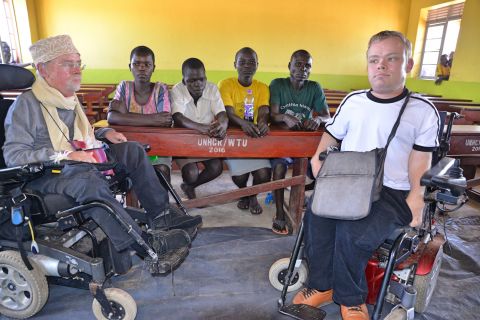 World Vision and the Finnish Church Aid jointly organized their trip to Uganda. The main goal for the visit was to enable the two meet and interact with PWD's in Palorinya, get to understand their most pressing challenges and needs. This would then be put in a report to the Internal Affairs Ministry of Finland, providing recommendations about the kind of assistance the PWD's require.
In his parting remarks to the PWD's at Palorinya, Kalle Könkkölä had this to say.
"I am glad to see that you are very positive and optimistic, do your best to desist from self-pity. As PWD's we must do our best to become self-reliant. Disability is not inability. Our challenges are the same all around the world. I will do my best to represent your challenges and recommend the kind of support you need. But please keep working together.''