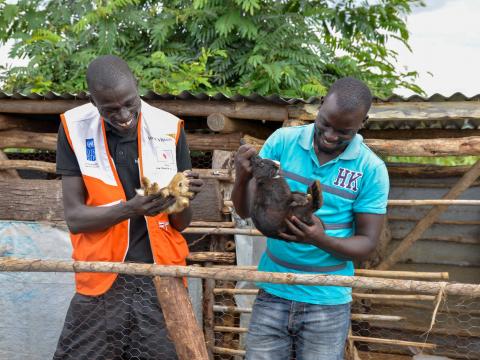 Resilience and livelihoods
Sustainable communities…
Around the world, the impact of extreme poverty on children's development is devastating. In Uganda, we are working to break the cycle of intergenerational poverty by 2020 so that the most vulnerable children can reach their full potential. Because of our community-focused solutions, for every child helped, four more children benefit too.
However, the scale of the challenge remains significant:
Uganda's population is estimated to be 44.7 million people with a national growth rate of 3.5% p.a. placing significant stress on livelihoods.
Agriculture (including livestock) is the core sector for food security, income enhancement and employment for more than 80% of Uganda's population
68% of the population are subsistence farmers with two in 10 Ugandans living in extreme poverty
Only 3% of Uganda's adult population borrow money from a commercial bank, according to the Finscope Uganda 2018 report. This is attributed to lack of income, high costs of operating an account and the proximity
Our Approach
Tools and resources to build self-reliance are key to helping hardworking people leave poverty behind. With our community-based model, which has been refined and expanded over the years, we're able to offer the hand up that people need to get — and stay — on their feet.
Ending intergenerational cycles of poverty is at the heart of our approach to helping the most vulnerable families lift themselves out of poverty for good.
Our work addresses the underlying causes of child poverty, food/ nutrition insecurity, vulnerability to climatic events as well as the lack of access to markets and financial services.
We help people build knowledge, skills, and resources to ensure that:
Children are well-nourished and free of hunger
Families have resilient livelihoods, income, and assets
Parents support their children's education and have the financial resources to provide it
Adolescents develop hope and skills for a productive future
Building secure livelihoods and market access
Our focus is on strengthening families' abilities to build both on and off-farm business enterprises in order to achieve both household food and nutrition security and improved income to meet their children's basic needs. Disasters often push families backwards so we encourage them to build resilience by saving financially and by managing natural resources, such as water, more effectively.
Building potential for sustainable employment
We help working-age adolescents develop relevant workplace skills. This offers not just a potential livelihood, but it also reduces exposure to violence and gives them hope and aspirations for a better life.
Through small loans, skills and knowledge transfer, groups are organised, and we enable individuals to open doors to new opportunities.
Empowering women through economic opportunities
We intentionally empower women through savings for transformation groups, skills training, education, and access to small loans. Research has shown that when more cash and assets get into the hands of women their children benefit and they are able to lead healthier more fulfilled lives.
We strive to ensure children benefit from increased household income, resilience, and diverse food production. We measure our success in several ways, including whether children are eating two nutritious meals a day and regularly attending school. Anecdotally, we have seen a reduction in early childhood marriage and domestic violence because of livelihoods work that is integrated and child-sensitive.
Our long-term presence in communities creates the opportunity to end the cycle of generational poverty. By strengthening systems and community institutions, working with faith leaders, partnering with the private sector and enhancing market systems, we are able to promote sustainability and resilience.
Working with local partners – in both the government and the private sector – we equip families with tools they need to overcome poverty by implementing innovative and integrated programmes.
Impact*:
26,785 farmers (13,125 males; 13,660 females) applying and  practicing improved farming technologies and techniques
7,777 households practising Farmer Managed and Natural Regeneration (FMNR) model
25, 329 farmers (12,411 males; 12,918 females) equipped with weather information enabling them to plan and make an important decision regarding planting, harvest and storage.
4,111 savings for Transformation (S4T) groups with a total of 98,434 members (60% females) formed and trained on selection, planning and management of enterprises
UGX 8,053,328,599 savings mobilised and UGX 6,907,504,484 loaned out to members to meet their children's nutrition, healthcare, and education needs
131,411 children (including 21,257 Registered Children) and 8,613 youth benefited from S4T activities. 
54.3% of households in project areas with sufficient food, year-round (up from 44.1% in 2015)
86.7% of children with sufficient diet diversity (up from 54.6%)
43.4% of parents and caregivers providing well for their children (up from 31.3%)
10 local seed business groups from eastern Uganda bulked and sold collectively 2,861 tons of quality bean seeds; seven tons of rice, 40 bags groundnut and earned over UGX 47 million. 
Four cooperatives from Northern Uganda bulked and sold collectively 220 metric tons of maize at UGX 84,150,000; 128 metric tons of sunflower at UGX 140,800,000 UGX; 30 metric tons of soybean at UGX 48,000,000, and 250 metric tons of sorghum at UGX187,500,000.
*Statistics as of 2018
Related Resources