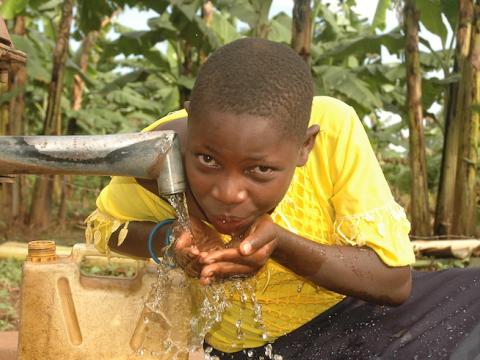 Water, Sanitation and Hygiene
Clean water for all…
Every child deserves clean water. It is not only a basic human right, but it is also an essential building block of life that allows children and their communities to survive and flourish.
We believe the water and sanitation crisis can be solved within our lifetime. Globally, World Vision is reaching one new person every 10 seconds and three more schools every day with clean water. Our goal, in alignment with the UN's Sustainable Development Goals, is to provide clean water and sanitation to everyone in every community where we work — including those in the hardest-to-reach places — by 2030. Yet, there is still much to do.
More than 24 million people lack access to basic drinking water services in Uganda… that's over 3 in every 5 people.
29 million people lack access to improved sanitation…that's 8 in every 10 people
Over 4,500 children under 5 die a year from diarrheal diseases attributed to contaminated water, poor sanitation and unsafe hygiene practices
Poor Menstrual Hygiene Management in schools contributes to a 10% drop out of girls.
Our Approach
Clean and safe water is a fundamental ingredient for a healthy life. Our community-based model, which has been refined and expanded over the years, enables us to co-develop sustainable water, sanitation and hygiene solutions that open doors to health and lasting change.
In Uganda, World Vision doesn't just provide water and sanitation infrastructure, we also work alongside the people we serve so that they can maintain water and sanitation facilities once we're gone. We also work with communities to design activities that help move community members toward healthier behaviours.
As the leading non-governmental provider of clean water in Uganda, World Vision reaches one new person with clean water every 10 seconds and three more schools every day. We do this together with strong partners, leveraging our complementary strengths.
These partnerships enable us to reach scale and ensure we learn and improve along the way. Below are some examples of our core interventions:
Water
Boreholes are constructed using drilling technologies appropriate to the local context
Hand pumps or mechanised solar-powered pumps are installed and operated to provide water for environments ranging from small communities to semi-urban settings of more than 10,000 people
Rainwater collection systems are built to store and treat rooftop rainwater before use
Sanitation
Latrines are built to protect people, water sources and the environment from faecal contamination
Communities receive training on the importance of solid-waste management
Sanitation education helps protect children's health and keeps the environment free of open defecation
Hygiene
The adoption of hand-washing with soap at critical times prevents the spread of diseases such as cholera, diarrhoea, and Ebola
Hygiene behaviour-change activities in communities, schools, and health centres improve hand-washing, water, and food safety
Important: The power of clean water, sanitation, and hygiene (WASH) programmes open the door to community transformation. We engage with faith communities to help ensure that the most vulnerable people benefit from improvements in water, sanitation and hygiene. And thus:
More time for family, education, and livelihoods
Women have more time to nurture their children and take part in income-producing work
Children have more time to attend school, enabling them to realise their full potential
Improved food security and nutrition
Livestock production increases, providing a valuable source of nutrients for hungry children
Garden plots can flourish all year round
Better health and safety
Medical facilities are improved, enabling basic services such as child delivery in hygienic conditions
Increased use of proper sanitation facilities allow for better environmental hygiene
Equitably accessible sanitation can give women and girls greater privacy and safety
Healthy hygiene behaviours keep children safe from disease and the risk of infection
Women and children are protected from injury and violence since they no longer need to walk long distances for water
Impact*:
55 boreholes installed in communities, schools and health facilities- and 451 water taps
68% of households in project areas with year-round access to sufficient water (up from 42.3% in 2015)
17,917 homes with new sanitation facilities
128,953 people who benefited from hygiene behaviour-change promotion in communities
13,465 households that gained access to hand-washing facilities
National level and rural water and sanitation access up from 62% in 2011 to 83% in 2018
10,650 children  reached with safe water
20,638 households reached with hygiene and sanitation messages
749,000 people had improved sanitation facilities
935,000 people adopted improved hygiene practices
*Statistics as of 2018