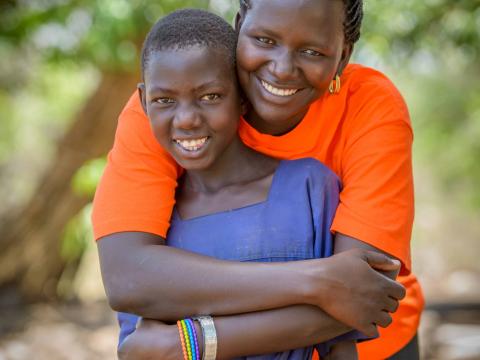 Child Protection
A secure childhood for all…
We believe every child deserves to be protected from violence, live a full life, and have the chance to become who God created them to be. We help communities build a safety net of loving people to protect children, prevent harm and ensure that those who are harmed receive the help they need to recover.
We are working hard to reach vulnerable children all over the country. Despite our efforts, thousands still don't have access to what they need to thrive. For example:
Child neglect, defilement and domestic violence are among the top 10 leading crimes in Uganda
70% of children in upper primary and lower secondary report physical violence
12% of young girls in Uganda get married at 15 years of age
57% are married by the age of 18.
Only 30% of children registered at birth, and just 1 in every 5 children, has a birth certificate.
Our Approach
We don't just work to keep children free from dangerous situations, we also actively work to counteract the poverty and social stigma that often lead to atrocities against children such as abuse, child labour, neglect and child marriage.
With our community-based model which has been refined and expanded over the years, we're able to address the complex issues that create threats to childhood.
In Uganda, World Vision engages all those who have a responsibility to protect children: families, faith communities and care providers as well as local and government officials. Our efforts focus on improving laws and accountability, increasing social services and supports, catalysing behaviour and attitude change and strengthening child resilience.
Strengthening the first line of protection
We equip and strengthen the abilities of families and caregivers to be the first line of protection and care for children by growing social support networks, linking them to economic and social assistance, equipping them with positive parenting skills and engaging husbands and fathers to play a leading role in combating violence against children. We also help vulnerable families gain access to social services.
Partnering with communities
Rather than just addressing the symptoms, we address the root causes of violence against children-- including harmful attitudes, beliefs and practices—and we equip communities to provide restorative services when children are abused. We listen to children and work with everyone who has a duty to protect them including families, churches, faith leaders, local officials, teachers, doctors, police, courts, and government agencies. Our programmes work to strengthen the laws, services, norms and circles of care that keep children safe.
Educating and empowering children
Our efforts go beyond shielding children from child marriage and other forms of abuse and exploitation.
We empower children with the skills and knowledge to protect themselves and help protect one another.
We teach children about their rights, how to keep themselves safe and how to make their communities and schools safer for all, especially the most vulnerable girls and boys.
Catalysing faith leaders
We mobilise faith communities to value and protect children. Through our Channels of Hope programmes, we train and equip faith leaders to create safe environments for boys and girls, and to play a lead role in challenging and transforming beliefs, social norms, and behaviours that cause harm to children.
Influencing governments
We advocate protecting girls and boys by educating local leaders and government authorities, empowering communities to hold government accountable and building evidence to drive policy change. We empower local leaders, teachers, social workers and health workers to prevent and respond to violence against children while also educating families about basic human rights and helping them see how their communities can and should work collaboratively with government and service providers to protect children.
One of the ways we are spreading this message right now is through our five-year campaign: "It Takes a World to End Violence Against Children", which aims to positively impact the lives of millions of the most vulnerable boys and girls in Uganda by 2021.
By catalysing a global movement of people committed to keeping children safe from harm, we will strengthen interventions to address violence against children, increase long-term funding for ending violence and strengthen accountability mechanisms that monitor how governments fulfil their commitments to protect children.
Impact*
133,170 children gained essential life skills through child parliaments, peace clubs and drama groups
48, 692 children participated in community dialogues on ending violence against children
26, 086 children could name at least three ways to protect themselves and others 
163 community child protection structures established 
828 community dialogues on harmful child practices
986 child abuse cases followed through
28, 343 children (13,888 boys, 14,455 girls) reported being free from harmful practices
25,924 children (12,703 boys, 13,221 girls) participated in children's group activities
Related Resources:
*Statistics as of 2018