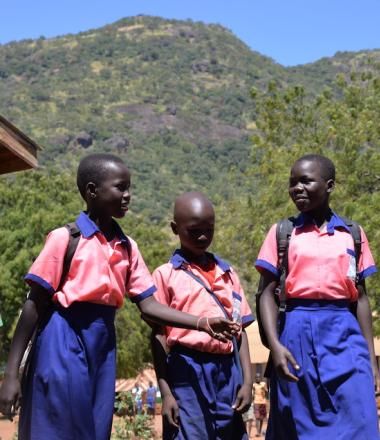 Education
We want all girls and boys to be educated so they can reach their full potential, contribute to their families and communities and become what God created them to be.  We work to help children attain core cognitive, emotional, social and life skills in order to reach their full potential and lead productive and fulfilling lives. We focus on literacy because education is our best hope to transform Uganda. Through education, we can support the future doctors, politicians and educators of Uganda. It is through educated citizens that we can ensure our country's future development.
Every child has the right to an education. And, although more children are enrolling in school, many students do not receive the quality of education they deserve — and millions are missing out on this critical opportunity altogether.
Not only are children who are out of school not preparing for their futures, but they are also at greater risk of exploitation. To protect them, we provide education-and-protection-focused programmes for children who cannot attend school due to conflict or displacement.
We're working to improve the quality of education by supporting policy change, improving the training teachers receive and helping children and their communities address gender-based barriers. Despite our efforts, thousands still don't have access to quality education. The following statistics paint a compelling picture:
There is a major disparity between the primary school enrollment rates for grade 1 and grade 7, which points to the low survival rate for children in the education system in Uganda at only 49%.
Only 40% of children are able to read at P3 and write at P6.
Only 10% of children in Uganda are enrolled for Early Childhood Development
68% of children old enough to have finished primary school don't have skills they need to survive in life
Only 33% of children who start school progress to secondary
60% of children who complete primary seven are illiterate, nearly two-thirds of them girls
Only  1 out of 5 teachers have the competence to teach English and math
Only 5% of children with disability have access to education
33% of students have access to handwashing facilities in schools
Our Approach
Our unique community-based model, which we've refined and expanded over 30 years, helps establish sustainable education solutions to transform the futures of today's children.
Our experience has shown that families, schools, communities, and governments must work together to help children develop skills in and out of school, from early childhood through adolescence.
Early childhood development (ages 0–6)
A child's early years are critical. Our early childhood development programming spans from pregnancy through age six to ensure children form a strong foundation for early learning in safe and stimulating environments.
The Go Baby Go (ages 0-3) programme targets the first 1,000 days of life, a crucial period of rapid brain growth. It supports parents as the first teachers of their infants with individual home-based support and group sessions to improve parenting skills which improve family well-being and holistic child development.
The Learning Roots programme focuses on the developmental needs of children aged 3-6. It engages parents to support early reading and numeracy skills; strengthens systems by working with national policymakers; fosters community links with the formal sector and works to strengthen early childhood development centres.
Primary School (ages 6–12)
Attaining the basic skills of literacy and numeracy is the main focus for children in primary school, with a goal of increasing the number of children who read with comprehension.
Teachers are trained to incorporate core reading skills into their curriculum and parents are equipped to help their children read outside of school.
Adolescents (ages 12–18)
World Vision Uganda prepares adolescents for work and productive adulthood by helping them develop skills that are key to the pursuit of their educational and life goals.
Through our Safe and Nurturing Schools programme, we help create a positive school environment free from physical punishment, bullying and sexual violence. We also help develop codes of conduct for appropriate teacher and student behaviour.
Through our Girl Vision programme, we prepare girls to transition to and complete secondary school by addressing the key barriers they face. This involves changing attitudes, engaging the girl herself, and working across sectors such as health and child protection at family, community, school, and government levels.
Addressing a full range of human needs
Believing that every child deserves the chance to reach their God-given potential, we empower vulnerable boys and girls to change their own futures through education.
Our integrated holistic model leverages our work in all sectors to ensure children have the best possible chance to build a strong foundation for the future.
Impact*:
400,000 children (nearly 13,000 of these children affected by conflict) directly benefitted from an improved safe and learning enhancing environment and reduced pupil/classroom ratio
212 community literacy centers/reading clubs established serving a total of 4,500 children
3,265 girls trained as peer leaders in making sanitary pads
Nearly 8,000 teachers and more than 1,100 caregivers were trained to support children's reading
Over 34,000 copies of different book titles of locally-relevant reading materials were distributed
937,530 children reached with education services 
73.1% school attendance in target areas (up from 55.4% in 2015)
7,848 teachers implemented "safe school" standards in 981 schools
102 classrooms constructed 
19.3% P3 children reading with comprehension (up from 9.9%)
44% 3-6-year-olds attending Early Childhood Development (up from 26%)
2.9% school drop-out rate (down from 11.8%)
*Statistics as of 2018
Related Resources