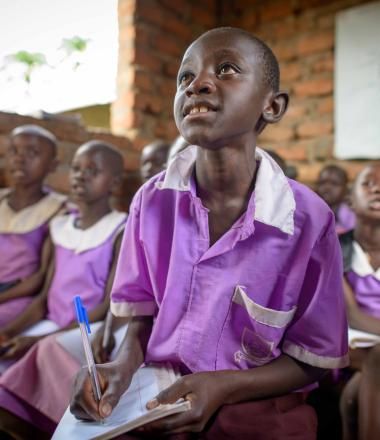 Education
2021-2025
VISION
Children are educated for life
GOAL
To contribute to increased number of primary schools children who can read.
Who will the programme IMPACT?
Primary school girls and boys

Parents and caregivers

Teachers and school administrators

Faith, cultural and community leaders.
What will the programme ACHIEVE?
550 schools supported with reading materials, teacher training and boosted school management and leadership to support literacy activities.

3,850 teachers tutoring children using child-centered teaching-learning methods

306 reading clubs established at community level to support literacy and numeracy education

1,136 volunteers supported to aid child in Primary One to Primary three with literacy and numeracy skills

684,750 students (Primary One-Primary Three) with functional literacy and numeracy skills.
How will this be ACHIEVED?
Transform learning environments through teacher training and access to quality learning materials both at school and at home.

Ensure schools are providing safe teaching and learning environments with zero tolerance to violence against children.

Empower communities to advocate for improved and safe learning environments.

Engage parents and caregivers as first educators to support learning activities both at home and at school.
What will SUCCESS look like?
Effective and inclusive teaching and learning processes adopted through:

Increased teacher capacity through training, support supervision, and mentorship

Improved access to age-appropriate and relevant teaching and learning materials

Boosting school management and leadership to support literacy activities

Children participate fully in school and literacy centers/community reading clubs by ensuring:

Parents support literacy activities at school and at home

Communities establish literacy centres

Children participate in reading clubs

Improved access to safe, conducive, and inclusive learning environments:

Inclusive school WASH

Accessible and safe school facilities

Schools are free from violence

Children attend Early Childhood Development centres
Our APPROACHES and MODELS
Unlock Literacy Learning Roots
Assess and strengthen classroom learning environment and systems, engage parents and community for action.
Key activities;
Conduct reading assessments to measure children's reading levels.

Train teachers to incorporate five core reading skills into their classrooms.

Mobilise parents and communities to create a learning environment at home and in the community to support children as they learn.

Develop reading materials in local language or mother tongue.
Learning Roots
Focus on children aged 3-6 transition successfully to primary school.
Key activities
Engage parents and caregivers as first educators to support early reading and numeracy.

Strengthen Local Early Childhood Development centers through teacher training to incorporate nurturing and inclusive practices while creating a safe and stimulating experience.

Strengthen local and government systems to support quality education and community involvement.
Citizen Voice and Action
Communities trained and empowered to create safe learning facilities and help reduce disaster risks in schools.
Key activities
Inform communities on the government's minimum standards and policies for schools.

Enable communities to advocate for improved service delivery and demand social accountability from their leaders and service providers.

Empower communities to monitor the standards of schools and influence policymakers.
We are PRESENT in 25 districts
An updated map
Agago

Oyam

Gulu

Kakumiro

Kagadi

Kikuube

Hoima

Butambala

Rakai

Nakasongola

Buliisa

Bundibungyo

Kamwenge

Tororo

Bugiri

Busia

Butellejja

Soroti

Buikwe

Mpigi

Abim

Karenga

Kabong

Kotido

Kole
*Statistics as of 2021
Related Resources