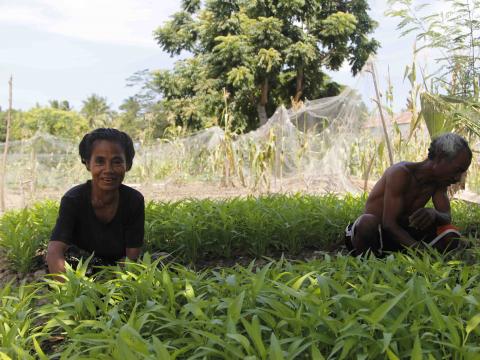 Enhancing resilience for farmers in Timor-Leste
Tuesday, July 18, 2017
As one of the Australian Department of Foreign Affairs and Trade's (DFAT) Humanitarian Partnership Agreement (HPA) implementing partners for the ARC (Action for Resilient Communities) in Timor-Leste project, World Vision (WV) was responsible for carrying out activities reaching nearly 1,981 households and 10,394 beneficiaries across eleven villages in Baucau municipality. Baucau was one of the most heavily impacted regions by El Niño. A 2016 World Food Programme (WFP) livelihoods assessment categorised the entire municipality of Baucau as facing high livelihood impact from El Niño and several eastern coastal regions of Baucau as facing severe livelihood impact. 

The overall aim of the project activities was to improve the resilience of vulnerable communities and strengthen their capacity to mitigate and manage risks associated with the negative impact of disasters and shocks, including El Niño, on their food and nutrition security, water management and sustainable livelihoods. The majority of community members in Baucau are smallholder farmers. Disasters and shocks like El Niño, resulting in drought conditions, can have drastic effects on farming productivity and community livelihoods. In order to improve the ability of farmers to cope with El Niño's effects on agricultural production, WV conducted training on improved farming methods, such as intercropping and using seasonal planting calendars, to 1,288 farmers and distributed drought resistant seed packs and tree seedlings to 1,821 farmers. These activities have allowed farmers to become more resilient and continue to produce enough healthy vegetables for consumption despite El Niño conditions. In some cases, farmers have enough produce left over to sell vegetables to the market for additional income. The agriculture activities were complemented with training on safe water use and hygiene, the use of bucket drip irrigations and tippy taps and protecting water sources to help community members improve their water management skills. Overall, the ARC project has accomplished strong impact in improving the resilience of community members to El Niño effects; achieving all targets. "Communities are excited by the results of this project because they have experienced the benefits even though the project only lasted for a short period," said Mauricio Gusmao, the World Vision ARC project coordinator.

Eldefonso dos Reis, who lives in Seical village with his wife and children, is a farmer who has benefited from agricultural productivity training provided under the ARC project.  "World Vision has helped me by providing vegetable seeds and tree seedlings. With their help, I have planted vegetables and have been able to earn USD $700 over six months by selling surplus vegetables to the market. My farmer group has its own individual gardens to grow their vegetables as well. My family and I have been using the vegetables for consumption and we have been selling leftover vegetables to the local market in order to earn money to meet my family's everyday needs such as purchasing school materials for my children." said Eldefonso.
Previously, Eldefonso worked as a sheep herder. However, after he was provided with training on intercropping and using organic fertilisers, he has been able to consistently grow vegetables and sell them to the market. As a result of the training, Eldefonso estimates that his monthly income has increased by $50 to $100 per month. "Before the ARC project, my income only came from a single source such as selling sheep. However, after receiving training from WV, my total income has increased and I no longer feel like I lack money. Life has changed for the better for me and my family," said Eldefonso. He added that he currently sells vegetables at the local market but that he also wants to potentially expand to selling to national markets in the future. This will encourage him to improve the quantity and quality of his agricultural products in the near future, so he can meet buyer standards.

Another ARC beneficiary, Felismina Ximenes, is a member of the Moris Foun farmer group which has 60 members (30 men, 30 women). She received agricultural training as part of the project and has her own individual garden plot where she grows vegetables including papaya and eggplant. Felismina was provided with several varieties of vegetable seeds including water spinach, spinach, green beans and soybeans as well as training on vegetable planting. "World Vision provided us with training on planting vegetables; as a result, I have been able to produce more vegetables for consumption and have been able to sell the extra vegetables to the local market for around US$5 to $20 each week. I've given the extra money that I've earned to my children for school fees and to help them buy school supplies such as pens and books," said Felismina.
"I feel like my way of thinking and my life has changed because of World Vision. Before when my husband went fishing, I would just cook and bring food to him. But now the situation has changed; whenever my husband goes fishing, I always spend the time in the garden growing vegetables and preparing them to be sold," she said. Felismina became emotional when explaining how in previous years some of her older children had to stop their studies at times because of a lack of money. She is very happy now that she no longer has money issues and can afford school stationery, uniforms and transport fees to allow her children to go to school.  Felismina shared, "I no longer need to borrow money from my neighbours because I now have my own money."