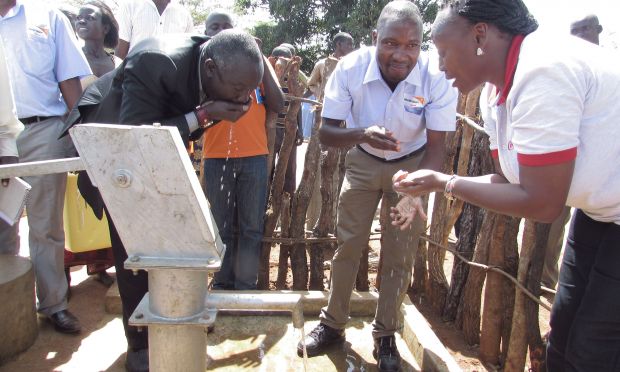 Communities in the villages of Langiya and Oleke villages in Wol Sub County, Agago district are able to access quality safe water after a partnership between World Vision Uganda and Coca-Cola Beverages Africa Uganda sunk two boreholes worth UGX 50m in the area .The intervention comes at the time when World Vision continues to enhance children's health and wellbeing are promoted by reducing water and sanitation related illnesses by providing sustainable safe water, sanitation and hygiene practices.
While speaking at the commissioning event, the World Vision Uganda Regional Programs Manager for Northern Uganda, Happy Kenneth noted that the partnership with Coca-Cola Beverages Africa Uganda has enabled World Vision to reach out to many communities and support the most vulnerable. "The most vulnerable in many of these communities are women and children of whom we work hard to ensure that they access clean and safe water. These two boreholes are some of the developments to reduce on the disease burden in the villages of Oleke and Langiya," Kenneth said.
"With access to clean water in the community, children will be saved the burden of trekking long distances to fetch water and will be able to attend school on time and mothers will also be able to have time to engage in agriculture. World Vision is forever grateful to Coca-Cola for this impactful partnership," he added.
Speaking at the same event, the Public Affairs and Communications Manager of Coca-Cola Beverages, Maureen Kyomuhendo noted that, it is their goal as a company to make sure that five million mothers are empowered by 2020 and that one of the ways that Coca Cola can achieve this goal is ensuring that they reduce the distance mothers walk to collect water so that they can have enough time to do other economically developmental activities such as agriculture."
She added that through the production process, Coca-Cola uses a lot of water and the only way they can give back to the communities the equivalent amount of water they use has been achieved by providing boreholes to communities through partnerships with stakeholders like World Vision Uganda.
"We decided to pattern with World Vision Uganda because of your transparency and accountability to the communities where you serve," Kyomuhendo complemented.
The two boreholes drilled are inclusive boreholes designed to be accessed by all categories of people including the visually impaired, the elderly, the disabled and children. The boreholes have also been built with animal troughs where animals drink without contaminating the water.
Access to clean safe water in these villages will restore hope among community members and enable them flourish in the other aspects of their lives as Amato Anjuleta, one of the community members bemoaned"I remember the long journeys we moved to access water. We walked for over 10kms behind the hills looking for water. We left early morning and returned towards the end of the day. Our children stayed hungry the whole day waiting for us to return. When we returned, we only had half of the water we had collected because it poured along the way as we only had calabashes to collect water then.