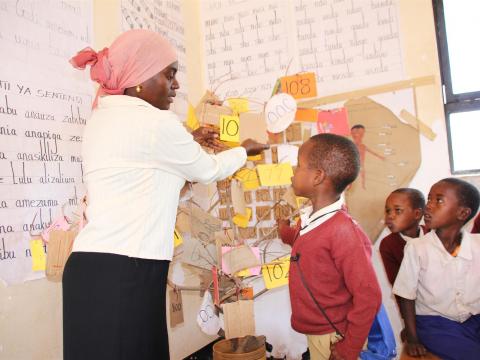 International Women's Day: Inspiring story of a female Head Teacher
Wednesday, March 7, 2018
This year Tanzania joins the rest of the world to celebrate International Women's Day with the theme "Towards Industrial Economy: Promote Gender Equality and Women Empowerment in the Rural". The theme can be achieved through a number of ways including women and girls empowerment through education.This is an inspiring story of a female teacher at a primary school in Karatu, in the northern part of Tanzania. 
Story by Richard Kitomari and Akaunsia Munuo - Dream Village Project
Most teachers in Primary schools do not prefer teaching lower grades. Among the reasons to that is that some do not have necessary skills of being able to efficiently teach at those levels.  Some feel embarrassed to teach pupils at those levels because they cannot communicate with them effectively.
But this is not the same case for the primary schools in Mbuyuni in Karatu Disrtict, Arusha Region in the northern part of Tanzania. This is after the World Vision Tanzania's intervention through Dream Village Project.  In this community most primary school teachers were equipped with literacy boost skills and knowledge through various training sessions. One of them is Mbuyuni's Head Teacher Flora Valema.
"Although I am a Head Teacher, I teach class one and two. I prefer teaching these grades because I have skills and knowledge on literacy boost which I acquired through World Vision's training.'' Says Flora adding ''The training helped me to manage large classroom sizes, helping children to move smoothly from mother tongue to language of school instruction and also helping children to read in their early years in schools.  With these skills I feel using my potentials more by teaching lower grades". 
Flora considers herself not only as a teacher but also a mother. She sees herself as multitask that's why she has managed to work as Head Teachers a position mostly held by men. At the same time Flora is able to teach lower grades and manages her family.
 "I cannot deny that it is a challenge, but I always plan in such a way that I can manage all my tasks accordingly. If I miss a lesson with my pupils due to management or other issues, I have to find  time to compensate" Explains Flora
"The skills I acquired has helped lower grade pupils to be able to read well as per the government standards. This is a milestone for us". Adds Flora
Flora represents many teachers who are trained through World Vision's Literacy Boost Model that sees to boost pupils reading and writing skills in line with the government standards in a bid to fight illiteracy. The model has proved effective and is currently implemented in more than twenty World Vision Tanzania's Area Programs in various regions across the country. In Karatu, the Dream Village project is supported by World Vision Korea.