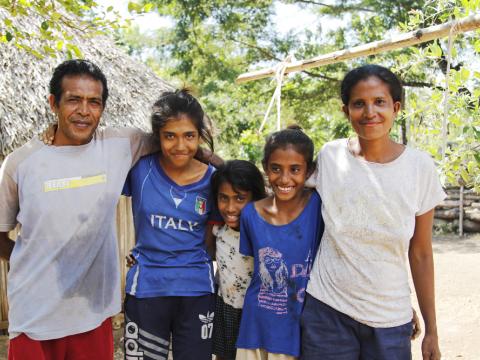 More crops, more income for Julio's family
Friday, May 25, 2018
Julio, his wife Judit and their four daughters live in Bobonaro Municipality. The 2015-2016 El Niño severely impacted Julio's family, and many others, causing failed crops, and food and water shortages.
Julio used to struggle to grow enough crops to provide for his family. "In the past, before I was involved with the World Vision project, I had little, even zero, as my monthly income," he said. His children's nutrition suffered as a result. "We found it hard to eat nutritious foods, so we just ate pumpkin leaves and papaya. There was no other variety of foods," his daughter Sandra, aged 13, said. World Vision's Bobonaro El Niño Response and Resilience Project helped families like Julio's become more resilient to events like El Niño by improving food security, water management and sustainable livelihoods. Through the project, Julio learned how to plant trees, manage nurseries, and grow and sell nutritious vegetables. As the leader of his farmer's group, he then shared this knowledge with the other group members. "We are now planting more yellow sweet potato, moringa, rockmelon and mung beans. These will provide additional revenue for us this year," he said. His farmer's group now also grows mahogany, breadfruit, papaya, eggplant, tomato, sweet tamarind, orange sweet potato and corn. 
Julio at his group's mahogany nursery / Photo: Jaime dos Reis, World Vision
"Our group has sold vegetables to Balibo market and around the village. The group earned USD $1,400 in 2017. So far in 2018, our group has harvested more than 1,000kg of mung beans. So, the group's income has reached around USD $1,000 to USD $1,500 for the last two months [March to April]," Julio explained.
A life-changing impact
 "I feel there is a significant change in my family's life because we have enough income after getting involved in this project," Julio's wife Judit said. "I have been cooking highly nutritious meals for my children, using local food from my own farm," she said. Their children have also seen a positive change. "Our parents have the ability to buy school stationery, give us pocket money when we go to school, and we eat a variety of vegetables. We feel that our health has improved compared to the past," Sandra said. "Now I have enough income to guarantee a decent life for my family," Julio said. He and Judit will grow more crops to increase their income, so their daughters can go to university.  Julio and Judit with three of their daughters, Jara, Vitania and Sandra / Photo: Jaime dos Reis, World Vision Village chief, Marcelino, believes the project has benefited many families like Julio's. "I guarantee that my community's income will continue to increase. Today, people actively participate in the village program, their mentalities have totally changed," he said. The Bobonaro El Niño Response and Resilience Project ran from February 2017-April 2018, and was funded by Aktion Deutschland Hilft (ADH), the Federal Republic of Germany.