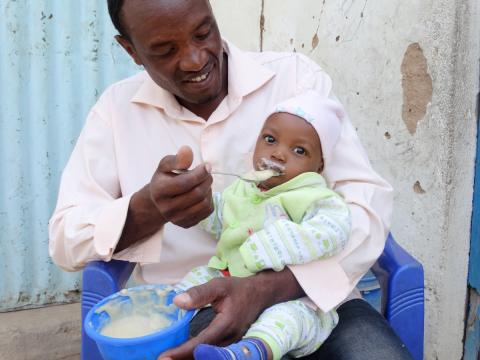 The outcry of an infant
Monday, May 7, 2018
Story by Agness John, Communication Officer ENRICH Project
According to the statistics, Nasri Athuman, a health one year old, shouldn't be alive. He lost his mother less than five month after birth, left him fighting tuberculosis (TB) and severe malnutrition.
Nuru, Nasri's cousin and caregiver says, "His mother had regular fever since she was pregnant, at a time she severely get sick. At the hospital she partially examined and found with nothing and so we turn to traditional medicine. She stay home for some time and she fall very sick, this time we take her to hospital. She was admitted at a Health Centre and after three days, 01st June 2017 she fail to fight for her life. This was almost six month after Nasri's birth.
Nasri did not get a chance of being well cared for by his mother not even proper breastfed as his mother was sick this all time. He has been fed cow's milk without correct composition as they had no knowledge on that.
 Athuman, Nasri father narrates, "He has fever throughout even before his mother died but due to the fact that his mother was unable to properly breastfeed him, we thought it can relate. I took him to Health Centre and he has been given different medicines without examination."
Every second a child wasted, stunted and even die of different forms of malnutrition. In Singida region stunting rate is 29%, wasting rate is 4.7%, underweight rate is 11.7% and anaemic rate is 37% (Tanzania Demographic and Health Survey and Malaria Indicator Survey 2015-16), which according to WHO standards this is a public health concern.
Community ignorance, local believes, the distance from households to health centres, lack of male involvement as well as little knowledge on malnutrition, leading to many families end-up taking their beloved to traditional healers with no improvement and sometimes worsen the situation.
Nasri was first identified as malnourished child in early June by ENRICH office guard as they are neighbours. She decided to support him with cow milk and so the rest of the team identify him during his caregiver visit to collect milk at ENRICH Project Singida's office. That was one week since his mother passed away living him unhealthy and weak.
World Vision - ENRICH project, Ikungi's Project Officers, immediately took Nasri to Singida Regional Hospital where they examine and diagnose him as severely malnourished and Tuberculosis (TB) patient. She continuous track his progress until recovering time.
"We admit him for two weeks. While here we start by giving him F75 milk as he had oedema, after the oedema start to disappear we change to F100 milk and to plumpy-nut after completely disappearance," said Irene Tarimo (57), Public Health Nurse (PHN). For easily progress tracking we gave him plumpy-nut and to be return after one week, with his health development we change it to two weeks. His weight improved to -1 standard deviation and so he graduate from being malnourished".
His health progress continue very well and his father and stepmother are committed to support him recovering. Apart from receiving treatment, they receive nutrition education from both Singida regional hospital and World Vision - ENRICH Project.
"Most of malnutrition cases are reported on September to November due to the dry season. In this regional hospital most cases are referrals from Ikungi district and the causes are almost the same as most of them are inadequate intake of nutrients and diseases. Most of the children when you test them are HIV positive, TB and or diarrhea." Says Teda (30), Singida Regional Nutrition Officer (RNuO).
The prevalence of stunting, wasting, underweight and anemia are deplorable in which case, under the support of Global Affairs of Canada, World Vision Tanzania is implementing a five year Enhancing Nutrition Services to Improve Maternal and Child Health -ENRICH project. It works with a strong focus on contributing to the reduction of maternal and child mortality attributed by nutrition cases in Shinyanga and Singida regions. This is through supporting two Maternal Newborn and Child Health (MNCH) paths which are strengthening health system and improving nutrition.
Both tuberculosis (TB) and malnutrition, he started gaining weight and recovering from frequently fever. His graduation took time due to fever accompanied with TB medicine.
"At first we tried to tackle the problem but in a wrong way. World Vision ENRICH Project identifying Nasri as malnourished children and take him to Singida regional hospital enable us to start tackle it in the right way. Treating both TB as the cause of malnutrition and malnutrition itself. My son now is gaining weight, smiling and he has started crawling, I hope it won't take long before start walking". Said Athuman smilling.
As part of expanding the intervention, Word Vision ENRICH Project through splash and ripple approach is spreading the nutrition knowledge to communities through CHWs household visit, nutrition supporting group meeting, sensitization on community gathering as well as strengthening health system.