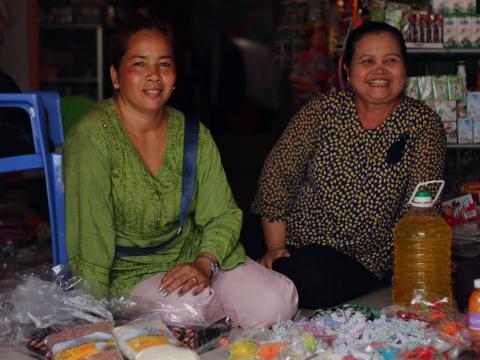 Sen Sok Rung Reung: Four Years of Agriculture Cooperative
Wednesday, December 6, 2017
Mrs. Sok Vanna runs a modest store in the rural area of Sen Sok Rung Reung. Only ten kilometers north-west of Phnom Penh, Sen Sok is a rural town, a sparse and quiet cluster of pastures and uneven roads where the relentless pace of the city's development has yet to reach. Like many of Cambodia's poorer rural communities, Sen Sok struggles to connect to the country's growing urban sector and benefit from the economic growth brought on by government programmes and foreign investment alike. 
This is largely because, as a poor community, Sen Sok's locals looking to start businesses and earn a living are held back by an inherent lack of capital - land, property, and vehicles - that makes them ineligible to access these funds. This forms a significant barrier to economic growth and empowerment that is prevalent across many rural communities around the Cambodia, for no fault of the people living in them.
Sok Vanna's store is the base of an Agricultural Cooperative (AC) that is looking to address this disconnect. In 2013, the AC began as a local savings group founded by 25 people from the local community, who also sought and obtained government recognition as a registered business. The founding members of the Sen Sok AC, led by Sok Vanna herself, pooled their funds together to found a communal bank of US$500. This was then made available for loans with flexible repayment systems to allow members to start and run their own businesses.
the AC not only provided local producers with a point of sale to markets they did not have access to before, it also provided entrepreneurial community members with financial support to run their own shops. 
In its early years, the main investment of these funds was in the growing and selling locally produced rice to buyers outside of the community. While the cost price of the rice went to the AC, sellers earned a commission for each bag sold, as well as additional dividends at the close of the financial year based on their total sales. Thus, the AC not only provided local producers with a point of sale to markets they did not have access to before, it also provided entrepreneurial community members with financial support to run their own shops. 
World Vision's contribution to the AC provided additional opportunities on top of what the people of Sen Sok were already pursuing, connecting the community to groups and individuals who could train AC members in the production and marketing of new products.
Sok Vanna's store today represents the growth of the AC over the past four years. Six locally produced products, rice, hand-soap, dishwashing liquid, handicrafts, nom korm (traditional rice cakes), and other sweets, are sold here along with various goods from nearby ACs partners. The group has grown to approximately 65 members who have pooled together around US$1400 dollars, allowing more families and individuals to start selling and producing these goods on their own. 
The AC has also fostered community development on a broader scale. Three percent of the AC's annual revenue is allocated to child well-being, and is used to pay for school supplies and school uniforms for children from both member and nonmember families. This same fund also contributes to increasing maternal care to provide a safer and stronger environment for children to grow up. Another two percent of annual revenue is used to hold end of year celebrations for the AC, a significant moment in the local calendar.
Reflecting on the progress Sok Sen has seen in the last four years, however, Sok Vanna acknowledges that the AC must continue to grow and its staff continue to develop their skills to ensure that these changes last.
The primary challenge facing the Sen Sok AC now is of improving communication and participation in all AC activities. The AC is consists of members from 10 different villages in the Sen Sok area, and this large space means that the group is rarely able to come together with every member present. AC meetings with only half of its members in attendance have become the norm. Because of this lapse in communication, the AC struggles to identify and provide for the businesses and individuals most in need, and to decide on directions for further expansion. 
Should these challenges in communication and attendance be overcome, Sok Vanna says that the AC must be prepared to plan and manage the development it hopes to find. Current and future AC members and leaders will require further training in business management, leadership, bookkeeping, market analysis, and the production of new goods, if they are to support the AC into an independent and self-sufficient future. In order to access this training, Sok Vanna believes that the AC must expand its networks and see support from the Government, NGOs, and the private sector, a pursuit that World Vision is working to assist.
World Vision has been running a project called Cambodia Sustainable Business Development with a goal to have all Agriculture Cooperatives and members have improved livelihoods for the well-being of their children in nine target provinces. Through the CSBD project, over 79,000 children get benefit from the project by 2019.
This story is written by Eugene Yang, an international volunteer with World Vision.