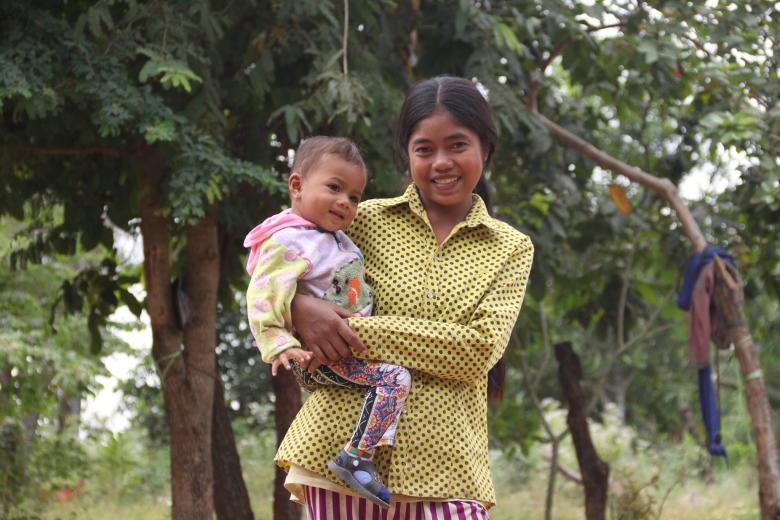 Small Adjustments bring about Big Change in Child Well-being
Thursday, June 14, 2018
Sokha is a 17-month-old baby girl from Svay Leu district, Siem Reap province. She used to be pale, malnourished, and underweight.
Born weighing 2.9 kg at the Svay Leu health centre, Sokha was just as healthy as the average newborn. Unfortunately, Sokha did not get breast milk from day one since her young mother Chanty lacked adequate nutritious food and was also ill. Sokha's weight gain gradually slowed within 9 months, reaching 5.7 kg instead of the expected 7 kg.
"I did not have farm land to plant crops, nor could I get a job because I had several symptoms such as coughing, fatigue, and anemia during my pregnancy. That was also the reason I could not produce milk for my baby soon after," says Chanty.
It is not surprising that Sokha became pale and was underweight since Chanty did not have much knowledge on how to take care of her, and she was put under the care of her lesser-educated grandmother.
In the last decade, Cambodia has shown good progress in reducing the under-five mortality rate. Between 2010 and 2014, the number has reduced from 54 child deaths to 35 per 1,000 live births, according to the Cambodia Demographic Health Survey.
Unfortunately, there has been considerably less progress made in decreasing newborn deaths, with over 50% of all child deaths in Cambodia occurring in the first month of life, and two out of every three newborn deaths occur in the first three days of life, with wide differences in newborn death rates according to population wealth, as well as between rural and urban areas. Malnutrition is the underlying cause of 45% of all child deaths.
Sokha's condition was noticed through the Starting Strong project, which has been working closely with Village Health Support Groups (VHSG), local health centres, and local authorities to identify child malnutrition.
 I am very delighted to see that my daughter's health is better
Neighbour and Deputy Village Leader Vun, 58, enrolled Sokha in the malnourished child list. As an active VHSG member, he always encourages parents in the village to take care of their children and provide them with wholesome food.
"Through Starting Strong, I learnt to make nutritious porridge with various ingredients. I mostly cook with eggs and vegetables such as pumpkin and young ivy gourd leaves," says Chanty.
After testing positive for parasites and anemia, Sokha was prescribed moringa powder and deworming tablets, given regularly by health centre staff.
Sokha's mother is now hopeful: "I am very delighted to see that my daughter's health is better, she has gained 2.5 kg and a recent test shows a negative reading for parasites. I appreciate World Vision's help through this project."
"I practise hand washing with clean water and soap before having meals to avoid spreading diseases, not only for me but my family too," Chanty expresses with pride.
"I bring my child to the health centre regularly for check-ups. And now, there is more income because I have a home garden, and my family is happy." 
World Vision has been running Starting Strong in Cambodia since 2017. Funded by World Vision Canada Support Office, the project focuses on infants and children under 5 years old, as well as pregnant and breastfeeding woman, working with community volunteers to promote behavioral changes and access to appropriate health and nutrition guidance.
To date the project has conducted activities with community members in over 303 villages, in three districts including 27 communes and 25 health centres in Siem Reap province.
This story is written by Loeurt Lun, a communicator with World Vision.