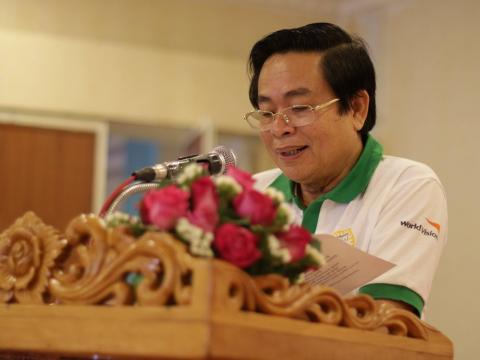 Speaking Out Against Human Trafficking
Tuesday, January 16, 2018
The National Anti-Human Trafficking Day was celebrated in Siem Reap and Battambang provinces on 14th and 18th December 2017. This event was a sign of commitment by the government, NGOs, and other partners to combat human trafficking in Cambodia.
Over two thousand participants were in attendance from the Department of Social Affairs, Veterans and Youth Rehabilitation; Department of Women Affairs; Department of Labor and Vocational Training; Provincial Police Commissariat; Commune Committee for Women and Children (CCWC); NGOs; as well as youth volunteers, teacher trainees and students, with the support of development partners and organisations including World Vision.
In Siem Reap, the event was presided over Her Excellency Pon Samkhann, Deputy Secretary-general of the National Committee for Combating Trafficking in Persons, while proceedings in Battambang were presided over by His Excellency Uy Ry, Chief of Battambang Provincial Council.
Speaking to hundreds of people at a conference hall in Siem Reap, Her Excellency You Sophea, Deputy Provincial Governor and Head of the Secretariat of Provincial Committee for Counter Human Trafficking says: "We would like to declare that the government considers human trafficking a crime and commits to take serious action to prevent the spread of this crime which harms Cambodians."
World Vision has equipped 124 youth leaders in leadership, management, and facilitation skills
According to H.E. Sophea, ten thousand Cambodian labourers native to Siem Reap province are working in and outside the country. This is equivalent to 10% of Siem Reap's local labour force.
Her Excellency Ponn Samkhann, Deputy General Secretary of the National Committee for Counter Human Trafficking also says: "The government is promoting the rights and benefits of domestic workers through policy implementation for issues such as salary and pension increase, improved working conditions, as well as benefits for pregnant and breast-feeding workers."
H.E. Somkhann also stated that in order to combat human trafficking effectively in Cambodia, the government would like to seek commitment and cooperation from member countries of the MoU on bilateral and multi-cooperation for elimination of trafficking in persons and protecting victims of trafficking.
Through Ms. Ly A Thung, Senior Project Manager for End Trafficking in Persons (ETIP), World Vision has equipped 124 youth leaders in leadership, management, and facilitation skills, alongside Smart Navigator Toolkits, so that they are able to manage and lead youth club members in mobilising communities to organize events or campaigns on trafficking and safe migration. The project is being implemented in Phnom Prek, Preah Netr Preah, and Kralanh districts.
To improve anti-trafficking policies and their implementation, ETIP collaborated with an internal advocacy team to equip three Child Protection Committee (CPC) groups on Social Accountability for Child Protection (SA4CP) so that they were able to lead local level advocacy with CCWCs for functioning child protection policies and response mechanism.
 Along with this, CPCs collaborated with CCWCs, providing child protection policies and CCWC roles/responsibilities awareness to community members, children and youths. 323 children and youths actively participated in identifying and addressing child protection gaps in communities through dialogue and follow-up action planning as well as providing recommendation requests towards improved policies and practices.
Through ETIP, 22 safe migration campaigns were led by youths and CCWCs. The project will also expect to directly benefit 90 trafficking survivors across the three targeted areas, by providing reintegration assistance as well as psychosocial support. Meanwhile, through local level training and awareness raising, and mobilizing local network and support to assist victims of trafficking, the project is also expected to reach 89,208 indirect beneficiaries.
This story is written by Loeurt Lun and Dara Chhim, World Vision Communicators