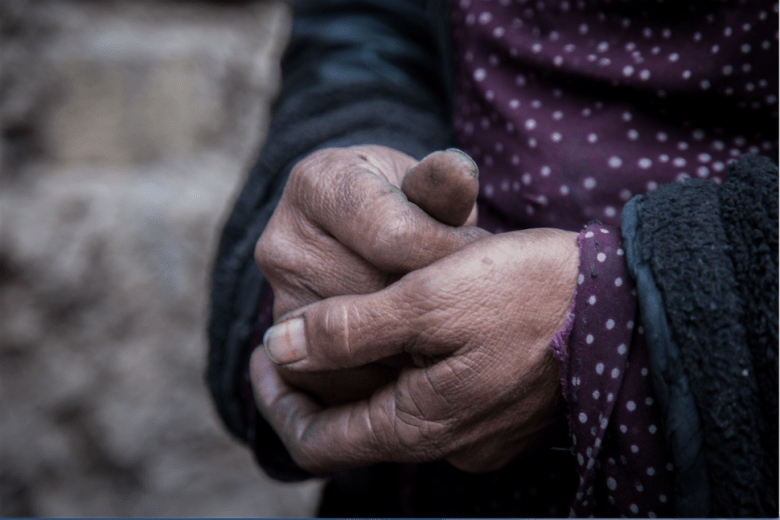 Struggling to survive with an empty belly
Wednesday, June 20, 2018
Inside of the damp, dark room she calls home, Maryam, 42, lost her husband two years ago in an internal conflict, leaving her to care for their eight children alone.
In the background her children are shouting and running around, trying relentlessly to get their mother's attention. The sounds of their activity mixes with the groans of her eldest son who was injured at work when he fell from a building.
Maryam is burning paper for heat in a small stove.
Things used to be easier for Maryam's family. "My husband was a vegetable farmer," she says. "His income was enough for a simple life like most of the people in our village. My children were going to school and I was imagining a good future for them." She looks down, lost in thought.
Afraid of losing her children, Maryam decided to flee to Herat just to be safe. In Herat, life hasn't been easy either. "My children…now collect garbage. Instead of carrying school bags they carry sacks full of garbage, either to sell for money or to use as fuel for cooking and making the home warm in winter." If the children don't work, the family doesn't eat.
According to the UN, nearly 270,000 people in 30 of Afghanistan's 34 provinces were displaced by conflict between January to September of 2017. An UNHCR Durable Solution Report from October 2016 shows that 97 per cent of Internally Displaced Persons (IDPs) and returnees in Herat are severely food insecure as they face employment shortages and are deprived access to arable land, limiting their livelihood options. In addition to that, the UN has stated that the recent devastating drought has put 2 million people in 20 of Afghanistan's 34 provinces at serious risk.
Where Maryam is living with her family. 
From June to December of 2017, World Vision Afghanistan (WVA) gave the family $90 USD per month of cash assistance from the Afghanistan Joint Response programme (AFJR) in the form of a mobile e-voucher.
The vouchers are transferred by phone on a monthly basis and can be used at participating shops to buy food supplies such as oil, beans, rice and meat. Prior to WVA's assistance, Maryam's family hadn't eaten meat or vegetables for a long time – almost one-and-a-half years since arriving in Herat.
Electronic cash assistance is given to IDPs in Herat to address food insecurity and to prevent malnutrition in children. "When the money came through, I thought a miracle had happened!" says Maryam. "God heard my voice. The first things I bought were meat, oil, rice and flour."
"Before, we could never afford to buy meat. Getting this cash has made a huge difference – I buy food supplies each month and cook different foods for my children." Maryam says that it's still painful thinking of her children's future, "but at least the burden of filling their bellies has been taken from my shoulders."  
The AFJR programme as reached 1,740 highly vulnerable IDP families like Maryam's. Moving forward, however, it's clear that the family will still have to struggle to survive.