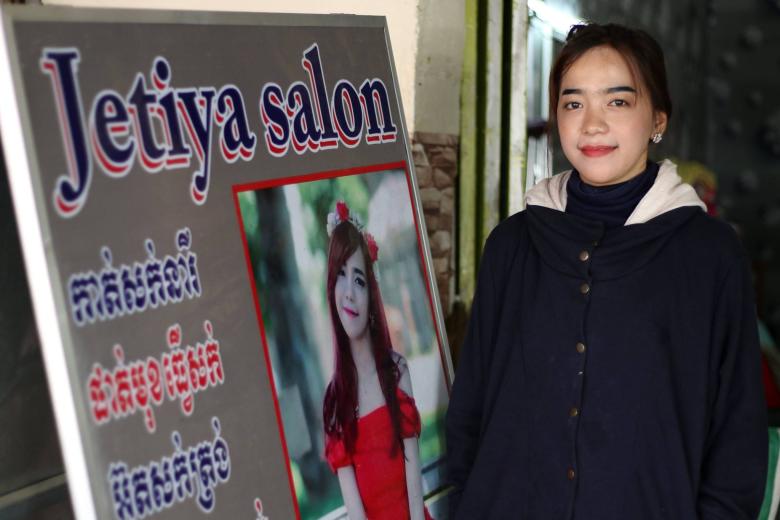 Taking a Different Path to Chase the Same Dream
Tuesday, June 5, 2018
A pair of hands are busy with styling hair and applying makeup for customers at a tiny local beauty store, located on a crowded narrow street in the outskirts of Phnom Penh. Sreynath, a 22-year-old youth, smiles with satisfaction. She had dreamt of becoming a hairdresser since she was very young.
Sreynath's family lives near a sewage canal southwest of the capital. She is the youngest daughter of four siblings.
Her family used to live a normal middle-class life, but now struggles in poverty because her father, the breadwinner, came down with a serious sickness, causing their household income to decrease. Sreynath's family condition forced her to abandon her 2nd-year studies at university.
"I couldn't study anymore because I didn't have enough money to pay the school fees," she said, with disappointment on her face.
Yet, the financial strain did not stop Sreynath from reaching her goal. She joined a youth group and got involved in community campaigns such as drug awareness, hygiene and other activities for the betterment of society.
One year later, World Vision's Youth, Leadership and Livelihood Development (YLLD) project introduced vocational skill training to unemployed youth. Sreynath fulfilled the criteria for participation, and she expressed interest in hairdressing.
"I couldn't believe it when I heard about the training. I was excited because I like this skill and I have the talent," she enthused 
Sreynath was recruited and provided with basic training skill training and some business capital to run a local salon, a dream she has wished for since secondary school.
With my business plan, I will grow my business, and I will teach young, unskilled youth to take up a profession like myself
"I like makeup; I often apply makeup for my friends during festive celebrations or weddings."
After training for six months, she rented a space to open her own salon. Her relatives helped her to renovate, clean and paint the place. She worked hard and many clients supported her.  
"If I did not learn about business planning and financial management, I would probably have had to give up on my business idea. But now I understand more on how to do business step by step and be prepared for loss," she voiced with confidence.
Now, Sreynath is able to afford her daily needs and that of her family. She also supports her father's expenditure on health services. She makes a profit of 50,000 riels ($12.50 US Dollars) a day and has approximately 800,000 riels ($200 US Dollars) per month in savings, which she can put aside for future expansion. 
"With my business plan, I will grow my business, and I will teach young, unskilled youth to take up a profession like myself," she said.
With support from the Department of Foreign Affairs and Trade (DFAT) and co-funding from World Vision Australia, the YLLD project has facilitated employment pathways for 249 youth in the Cambodian labour market for both wage and self-employment over the last three years, by equipping them with the necessary technical, entrepreneurship skills. 
In early 2018, 214 youths (including 11 female youths) were selected and are now being trained in different in-demand technical skills in demand such as air-condition repair, electricity repair, elevator repairing, welding and auto-mechanic engine repair, as well as soft skills, in partnership with technical and vocational education and training institutions such as the Cambodian-India Entrepreneurship Development Institute (CIEDI) and Cambodian-Thai Skilled Development Institute (CTSDI). 
In addition, the project trained 57 self-employed youths (including 38 female youths) who have existing small businesses with new knowledge on financial, entrepreneurial and business skills. Together with these skills, the youths were provided with a start-up fund based on their business plan to help them along.
This story is written by Ratha Ung, a communicator with World Vision International Cambodia.