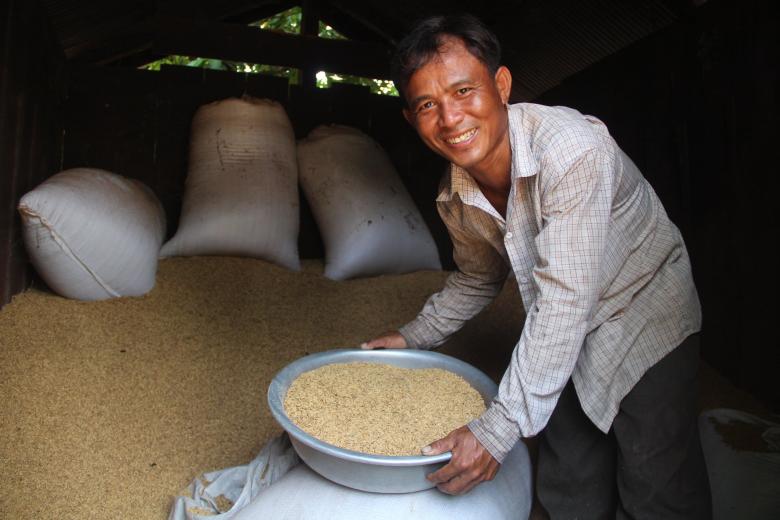 Upscaling Productivity through Upskilling
Tuesday, February 13, 2018
Phet, 43, is a farmer in a rural settlement of northern Kulen District, in Preah Vihear Province, Cambodia. He lives with his wife and three daughters.
Like all parents, Phet and his wife want to provide for their children and see to it that they have opportunities to succeed. They have tried to increase their work capacity in anyway so that they can guarantee their children an adequate standard of living for their well-being.
These days, Phet is part of the Kulen community Agriculture Cooperative. He is an active member and recognised as a successful farmer of organic rice. Before he joined this AC, Phet and his wife practiced traditional subsistence farming for their rice production. They had no idea how to consistently yield good quality and quantity, which means that crop outcomes were unpredictable and barely enough for them to survive from year to year. Sometimes, they would not be able to feed their children well as income was limited, and any money they made from selling their rice had to be divided for other important household expenses such as schooling materials, clothes etc.
Through the AC, Phet and his family have been able to gain new knowledge and started to grow rice using modern methods. Initially, they failed many times but did not give up. They were trained and coached on technical know-how by the Provincial Department of Agriculture, supported by World Vision's Cambodia Sustainable Business Development (CSBD) project. Finally, their commitment produced a huge amount of organic rice in 2016.
The income from the organic rice can provide them with a higher standard of living.
Phet's family has been with the AC since 2013. In 2015, the CSBD project began implementation which is supported by the Australian Government's Department of Foreign Affairs and Trade (DFAT) and social enterprise Thank you. The project aims to improve the livelihood of AC members by focusing on 3 main objectives as follows: first, ensure ACs have competency in governance and leadership with transparency and prosperity; second, ensure AC businesses are sustainable and profitable; third, support ACs to have multi-stakeholder collaboration strengthened, in order to improve business performance and functionality through the Provincial Department of Agriculture in Preah Vihear.
They can now ensure that their children thrive. 
Phet and his family are now able to get 15-20 tonnes of organic rice through modern methods. The income from the organic rice can provide them with a higher standard of living. "At first, my family did not know the benefits of organic rice production, or how to grow it well, but after participating in the AC to learn and practice the new methods, now we can see the result following our hard work," said Phet. "We are really happy to see the outcome, as the value of our organic rice is quite high," he continued. 
Besides growing rice once a year, Phet finds time to share the housework with his wife. He feeds the animals that they rear – pigs, cows and buffalos. They can now ensure that their children thrive. "We dream for our children to be well-educated. We're proud to have stuck it out for ourselves and our family," added Phet. 
Alongside DFAT, World Vision's CSBD project is being implemented with a combined budget of over USD $3.4 million, which will be used to improve market-led livelihood opportunities for poor farmers and youths in Cambodia. The goal of CSBD is to help the 3,690 active AC members from a total of 38 ACs to improve their quality of life and promote the well-being of children across three provinces by 2019.