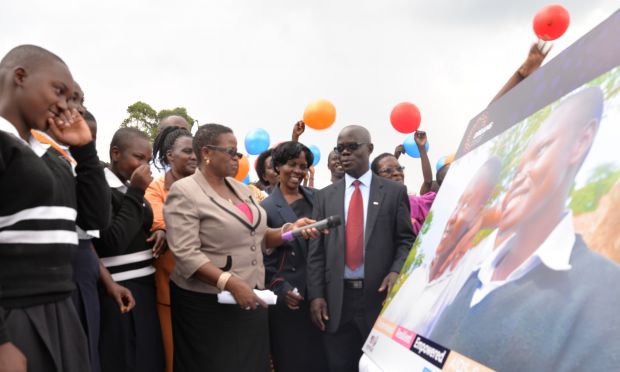 Normal 0 false false false EN-US ZH-CN HE
By Derrick Kyatuka
In an attempt to curb down the increasing number of the new HIV infections among adolescent girls and young women aged 15-24 years, World Vision Uganda recently launched a national wide campaign to address the issue.
The campaign dubbed Strengthening School-Community Accountability for Girls Education (SAGE) project which is part of DREAMS innovation challenge project, a project that aims at ensuring an AIDS free future for girls and women in Katosi, Mukono district.
Mukono district is one of the districts in central Uganda with high HIV occurrence. The others to be covered under the project include Mityana, Bukomansimbi, Gomba, Mubende, Rakai and Ssembabule districts.
The underlying principle of the project is to help the girl child to their full potential when they are retained in school, have access to youth Friendly Reproductive Health Services (YFRHS), are supported by their peers, parents, teachers and their communities. SAGE will increase awareness on HIV prevention and engage the adolescents themselves, parents and all stakeholders to support girls to achieve their hopes and aspirations.
Speaking at the launching of the event Angella Nakafero, a gender technical advisor in the Ministry of Education and Sports who represented the minister of state for higher education John Chrysostom Muyingo said that as a ministry, it's their mandate to ensure that both girls and boys are in a safe learning environment.
"The learning environment must be safe right from primary level up to the higher institutions of learning. As a technical advisor in the ministry, when I see the girls taking on the messages passed onto them positively, I feel honored and as a sector we shall provide support to ensure that girls keep in school," Nakafero said.
"This idea started a couple of years ago and we have been walking a journey of ensuring that we create a safe and positive learning environment in Uganda. I am glad that we have World Vision joining us towards achieving our dream of keeping the adolescent girls in school," she added.
She also called upon the students, political leaders and religious leaders to work together towards ensuring the reduction of HIV and retention of girls in schools.
"This innovation challenge is timely because it is coming in at a time when the government is struggling to curb down the increasing number of HIV infection among adolescent girls. According to the current statistics, each week about 570 adolescent girls between the ages of 15-24 get infected with HIV. The disease comes along with the package of illness, stigma, and early pregnancies and school drop outs," she noted.
The national director of World Vision Gilbert Kamanga said that under the program, he wants the girls to be determined, resilient, empowered, AIDS free, be mentored and above all the girls to be safe hence the term DREAMS. "As World Vision, in our current strategic intent, we have made it clear that we will ensure that we focus on the adolescent youth. We want to ensure that we end child marriage, child sacrifice, and violence against children in schools in areas where we work and also ensure that every child has a birth certificate," Kamanga said.
Therefore, for us as world Vision we want to work with the local government and churches to ensure that children stay in school. The best contraceptive you can give a girl, is making her stay in school," he added.
The Project Director, World Vision Rita Laura Lulua reiterated that the project targeting 45,000 adolescent girls in the next two years. "Those districts selected have the highest number of HIV preference among the adolescents especially the girls. Because of the social, cultural norms, beliefs and values the girls are more vulnerable than the boys and that's why the project is focusing on adolescent girls," Lulua said.
Adding that World Vision's approach towards addressing the challenge is adolescent- girls-led because adolescents tend to listen more to their fellow adolescents than they do to adults. The adolescents trained by World Vision will therefore be in position to reach out to other adolescents.
The DREAMS Innovation Challenge is funded by U.S President's Emergency plan for AIDS Relief (PEPFAR), JSI Research and Training Institute, Inc. also focuses on the adolescents attaining skills that will enable them to overcome some of the challenges they face.