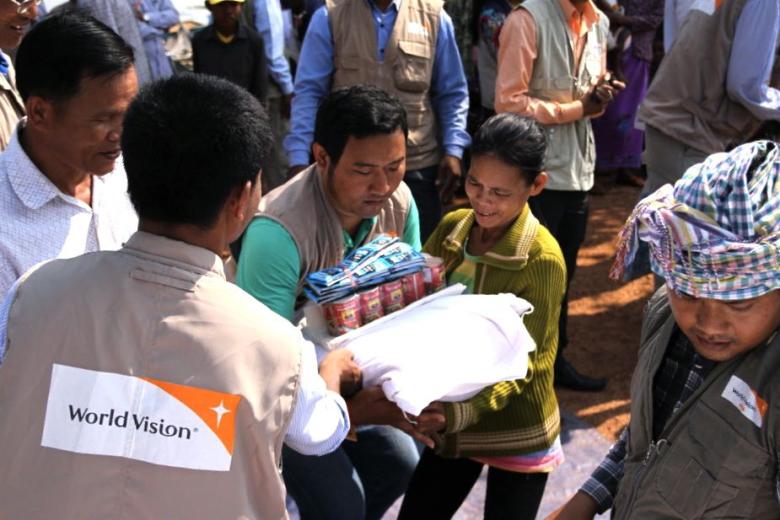 World Vision Responding to Multiple Disasters Across Asia-Pacific
Wednesday, October 16, 2013
UPDATED: 22 OCTOBER 2013
Cambodia | India | Laos | Philippines | Thailand | Vietnam
World Vision is assisting thousands of people in six countries across the region due to flooding from cyclones and typhoons, internal displacement from armed conflict, and an earthquake.
Heavy rains since the third week of September have resulted in flooding throughout much of Cambodia. Flooding continues to threaten the livelihoods of more than 500,000 people of the country's most vulnerable population. There have been 122 deaths recorded, and 40% of these are children. 17 out of 24 provinces are impacted, with an estimated 15%-25% of rice crops damaged. According to the National Committee for Disaster Management, 243,368 hectares of paddy fields are submerged, while 4,433 hectares are damaged beyond recovery.
World Vision assisted in evacuating communities to designated safe areas, raised awareness about basic health care, set up tents and child-friendly spaces. Water filters, water purification packs, clean water systems, hygiene kits and waste management systems were provided. With the help of youth volunteers, local authorities and other non-governmental organizations, food packages were distributed.
On 12 October, Cyclone Phailin made landfall between the states of Andra Pradesh and Odisha. It was the strongest storm in 14 years in India. While preparedness measures have helped save lives, the overall impact of Phailin is significant. According to the Indian Army, a total of 14,515 villages in 12 districts are affected with a total population of 9 million people. Approximately $394 million worth of crops were completely destroyed. In the most affected Ganjam District, around 200,000 houses were damaged. Many villages are still inundated and without power.
World Vision is distributing food, drinking water, and basic household goods to families affected by the cyclone. For the rehabilitation phase, World Vision will focus on the livelihood sector, water and sanitation, and education, which include rebuilding of schools, houses and community-based child-friendly spaces.
World Vision will continue to work closely with the government and other agencies for a coordinated response.
Heavy downpours are expected in southern Laos as Nari continues its march across East Asia dropping as much as150-300mm (6-12 inches) in rainfall as the storm passes through Vietnam. Typhoon Nari has led to around 20 deaths, floods, and significant damage in the Philippines and Vietnam. Rains are expected to be most severe in Champasak Province, an area still reeling from massive flooding over the past month.
World Vision staff are closely monitoring the affects of the storm and are prepared to provide immediate relief should the need arise.
World Vision is already responding to severe flooding in parts of Champasak, Savannakhet, and Luang Prabang provinces where heavy rains in early September damaged homes and schools. World Vision has provided affected families with food, water, and access to basic medical care.
CENTRAL VISAYAS EARTHQUAKE
A 7.2 magnitude earthquake struck Central Visayas on 15 October. Many roads, buildings, schools, and hospitals are damaged or destroyed. According to the latest report by UNOCHA, 3 million people are affected, with 186 casualties and 45,641 damaged houses. Aftershocks continue to persist as relief work is underway.
World Vision teams are working around the clock to provide supplies to families in evacuation areas and shelter camps this week. Initial relief packs include food items such as rice, water, beans, biscuits, brown sugar, and sardine cans.
World Vision is targeting to assist an initial number of 4000 families, including food items, hygiene kits, shelter and construction tools and materials. World Vision is also coordinating with key organizations, including the UN Humanitarian Country Team and the Bohol governor's office to provide long-term assistance to the quake survivors.
After a recent visit in a World Vision-assisted area in Sagbayan, the earthquake's ground zero and epicenter, Josaias dela Cruz, World Vision National Director, stressed that World Vision's priority above all are the children, as they are the most vulnerable in disaster situations. Child friendly spaces have been set up to support psycho-social needs for children through interactive activities such as play, arts and crafts.
ZAMBOANGA CRISIS
On 9th September 2013, a faction of Moro National Liberation Front (MNLF) seized 6 villages of Zamboanga City, demanding the Philippine government to recognize their independence. This has led to massive displacement of people, damage to property, housing, livelihood and infrastructure in the city.
World Vision has established child-friendly spaces for children to play and recover from distress and distributed ready-to-eat-food, and hygiene kits to affected families. Spaces have also been set up for mothers and infants where women can safely care for their young children.
Flooding has affected 28 out of 77 Thailand provinces with 36 deaths and displacement of at least 18,000 people. More than three million people have been affected since September (source: Department of Disaster Prevention and Mitigation). The aftermaths of Typhoon Usagi and Wutip have resulted in more flooding in the northeastern, eastern, and central parts of Thailand in the past 3 weeks.
World Vision has established child-friendly spaces in evacuation centers to address the psycho-social needs of children in the midst of disaster, provision of relief kits, and the rehabilitation and reconstruction damaged schools, houses, and livelihood in several affected districts.
World Vision is making initial assessments in affected areas of Central Vietnam after Typhoon Nari made landfall on the morning of 15 October.
The typhoon left at least four dead and 29 injured in the region, according to initial statistics from government sources. More than 5,000 houses were seriously damaged in Quang Nam. Schools, cash crops and basis infrastructures were affected while a number of fishing vessels sank. The typhoon caused the power cut in affected areas for many hours and made many communities inaccessible. Hundreds of people in those areas have had all their crops and livestock wiped out.