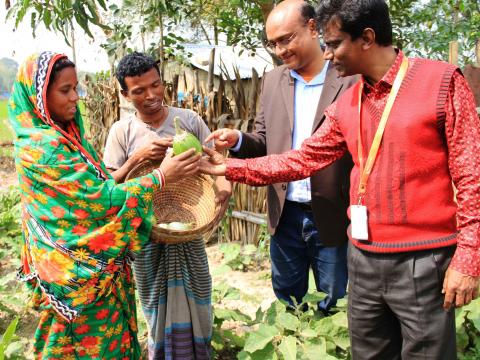 Gender Inclusive Pathways out of Poverty

The Gender Inclusive Pathways out of Poverty project is a DFAT and ANCP funded livelihoods initiative working with ultra-poor households in climate vulnerable communities in the Ukhiya and Teknaf subdistricts of Cox's Bazar. The ongoing humanitarian crisis in Cox's Bazar has brought with it an influx of Rohingya refugees, adding to the existing economic challenges for these ultra-poor households. Child safety has also become an issue, as desperately poor families are driven to marry off their children or have them work hazardous jobs to make ends meet. The project will address the economic, climate and child safety related challenges faced by the target communities, utilizing a 3 pronged approach of the ultra-poor graduation model, complemented with disaster risk reduction (DRR) interventions and capacity building on child protection.
Goal:
Improve livelihoods and climate resilience of ultra-poor households in Cox's Bazar
Project outcomes:
1. Improved household income level amongst ultra-poor households.
2. Increased community resilience for disaster preparedness and response
3. Increased knowledge and practice of child protection



"Gender Inclusive Pathways out of Poverty" is supported by the Australian Government through the Australian NGO Cooperation Program (ANCP). Thanks to ANCP.