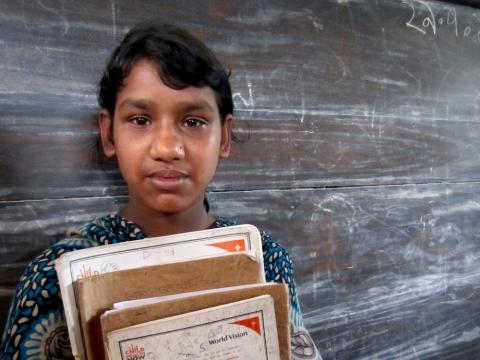 Natun Jiboner Asha
Duration: October 2013-September 2016
Population covered: The project is addressing 331,013 people or 76,124 households under its intervention. Among them, a total of 12,893 working children (44% girls) who dropped from primary school are directly reached by the project. Apart from this, the project is indirectly impacting the lives of about 15,351 children aged 6-14 years olds who are not attending school.
Project locations:  The project is implemented in 5 Unions in Kishoreganj Upazila under Nilphamari District and 8 wards in Rangpur City Corporation under Rangpur Division.
The project seeks to contribute in increasing completion rates among primary school-aged children by strengthening community mechanisms that will encourage drop-out children to go back to school. In addition, the project is implementing three (3) major components for reducing the children engaged in hazardous work in its working locations:
i) Setting up a referral system for drop-out primary school-aged children in collaboration with the government and organizations
ii) Supporting the setting up of non-formal primary education learning centers for working children that are accessible and close to their places of work
iii) Establishing a community-based support system for working children that will advocate for their increased safety and protection
In FY 2013, the project conducted a baseline survey and found out that 23% of children are involved in child labour. Out of this number, 63% are involved in hazardous work such as building construction, carpentry, mechanical and lead machine workshop, agriculture labour, fish processing factory, rickshaw/van labor, colour printer, and rice mill. It is also found out that 48% of these children are out of school or dropout of primary schools.
The project created an enabling environment by helping re-admit child laborers who had dropped out of primary education. During the FY-2013 the project ran 20 non-formal education centers for two shifts, with 975 working children. Meanwhile, 292 children were withdrawn from various hazardous jobs and 272 children were referred to government primary schools.
The project is receiving active support on child labour interventions as a result of networking with various stakeholders including the local Social Welfare Office, Education Office, the police, NGOs, Shishu Academy, Chambers of Commerce, School Management Committees, local leaders, parents, and people in the community as a whole.
Awareness has been raised among parents on child labour and consequently, they are sending their children to schools with active support from various stakeholders. The project also provides income generation support to the poor and vulnerable families that allowes them to send their children to school.