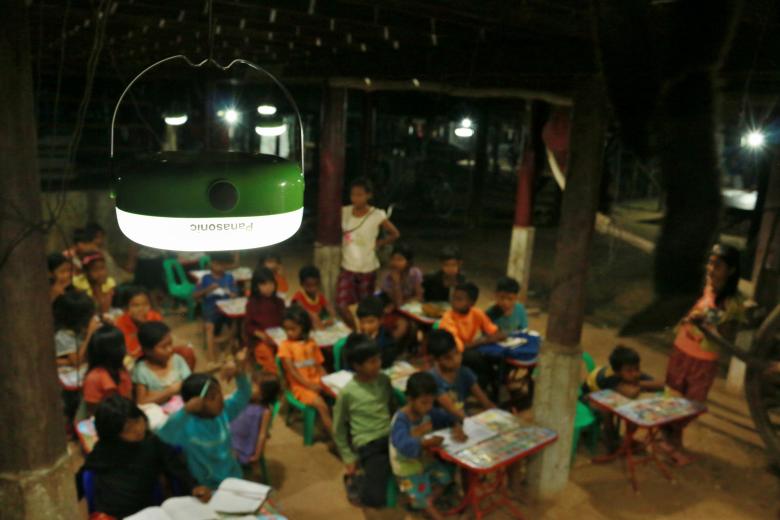 Burning the midnight oil in Cambodia
Friday, February 20, 2015
Grant project name: Gift-in-Kind – One Thousand Solar Lanterns Project
Funded by: Panasonic Corporation
Time frame: N/A
Purpose and Objective: The 966 solar lanterns (so far) will improve the quality of education of school children up to grade 6 or higher and will also promote self-learning at home to more than 12,000 children and youth.
meet the children benefitting from this project:
They blamed the sun. Cambodia's rural pupils often fall behind their city cousins because they don't do their homework. But rather than laziness, the reason is often a simple lack of light after the sun sets. To change this, World Vision has joined Panasonic to install solar-powered lanterns for extracurricular study.
The wooden ceiling's ten lights illuminate over forty children sitting on red plastic chairs. Sharing the limelight, the English pupils fire off a round of one-syllable words: "stand, sit, run, walk, ..."
Evening classes are a novelty for the students living in Cambodia's rural heartland, and are only possible thanks to the new Panasonic lanterns connected to a black-and-white striped, solar-powered charger attached to the outside of the house.
40% of rural third and fourth graders were struggling with reading, writing and mathematics, far higher than in urban areas. 
The wooden home hosts the village's child friendly club, which attracts 60 members aged seven to 15 and interested observers like Sinab, who comes to watch her 12-year-old granddaughter learn English. "The lanterns last until one or two am," the grandmother says.
Two children share each small chair and they enjoy learning late, unlike before when they had to hurry home as soon as dusk fell because it was too dark to study.
World Vision's findings reveal 40% of local third and fourth graders were struggling with expected levels of reading, writing and mathematics, a figure far higher than in urban areas with reliable electricity supplies.
Children are not doing their homework because they have evening chores but also because they do not have electricity to study after dark. 
Teachers in the countryside report this is because their pupils don't do their homework or extra study for two reasons: a lack of time as they have to farm or do household chores until dusk and not having electricity for light.
Many rural residents use kerosene lamps, but they only offer weak light and many families can't afford to fuel more than one lamp. Other households rely on cables strung from old car batteries, but rarely is this stopgap used to light study areas.
Four volunteer teachers in their late teens take turns to lead the village's evening classes. One of the quartet, 18-year-old Noeun, says: "Without the [electric] lanterns, the children wouldn't even know A, B or C."
Local World Vision team member Kimseak Suy says: "Peer learning in the evening is used in places where sources of light aren't common. It helps children develop the habit of studying out of school and to love learning."
The young villagers benefitting from the solar-powered lessons contribute to the 500 children across Cambodia who study using one thousand lanterns provided by the Japanese electronics company Panasonic.