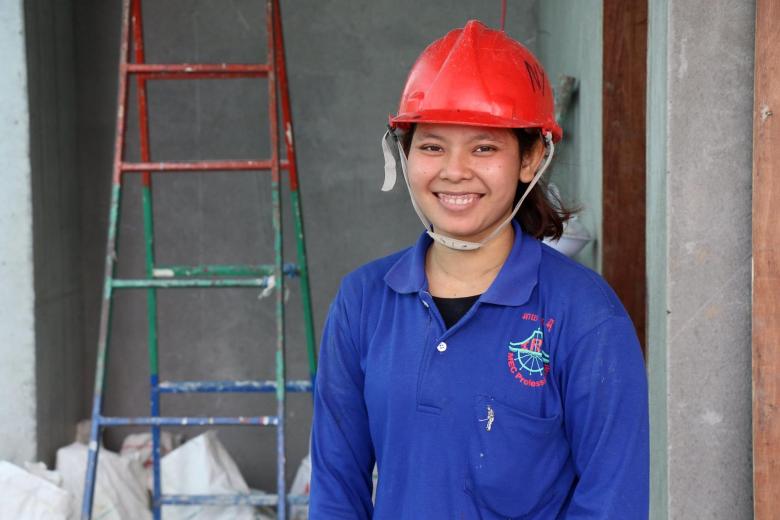 Girl with Hope
Wednesday, July 18, 2018
Sreyni, 21, migrated to Phnom Phenh with her parents when she was 2 years old. Her parents initially bought a cheap house on the water canal. But, due to the long distances they had to travel from their house to sell food in the city, her parents made the decision to move their family of 6 into a rented room near the Mekong River. 
Sreyni did not feel safe there. "I remember when I went to bathe at the riverbank in the evening. I was afraid of the dark, and the sound of men. I always ran back home quickly after I was done," she says. 
Sreyni was forced to leave school when she was 5, as her parents were not making enough income selling fried noodles from their mobile cart. She and her siblings started scavenging on the streets to help cover household expenses.
I'd never thought that I could come this far. I thank World Vision Cambodia for being where I am
Later, when she was 15, Sreyni was convinced to start working illegally in a garment factory. After 2 years in the factory, she had not been taught any specific skills that would allow her to improve her future.
Deep in her heart, Sreyni had always wanted to be able to work in an area where men traditionally are employed. An opportunity came when she heard that World Vision was offering to support pay fees for skills training. She left everything behind to attend a vocational training programme in Phnom Penh.
I'd never thought that I could come this far. I thank World Vision Cambodia for being where I am.
"My neighbours looked down on me for joining the skills training programme. They said that I was a woman and shouldn't want to work as a man. So, I had to fight hard for my dream."
Six months after completing her training, Sreyni was successful in getting an internship as a stock keeper at a construction company in Phnom Penh. She worked hard to improve her skills every day. She was offered a full-time job, and within 10 months Sreyni was promoted to higher position.
Now earning 200 USD a month, Sreyni can send money regularly to her parents, who are now living in Steung Treng, Northern Cambodia, while also keeping some for herself.
"I'd never thought that I could come this far. I thank World Vision Cambodia for being where I am. But I won't stop here. I know I can still go a long way, and I will get there no matter what", Sreyni says. She now dreams of owning her own electrical store.
With support from the Australian Department of Foreign Affairs and Trade (DFAT) and co-funding from World Vision Australia, 214 young people (including 11 women) were recruited and selected for technical and vocational skills training in the 2017-18 year. This included air-conditioning installation, electrical installation, welding, elevator and auto-mechanic training. All those selected were also given soft-skills and job-readiness training. Consequently, 83% of them receiving on-the-job training and 71% of them were employed by various private companies, receiving monthly wages between 153 USD and 332 USD.
The project also selected 92 young people (including 62 women) with existing small businesses for training on financial, soft-skills, as well as entrepreneur and business skills. All of these people developed their business plans based on their local market assessment information. Now, 93% of them are able to generate net incomes in their businesses from 153 USN to 519 USD. 
This story is written by Ratha Ung, a communicator with World Vision.