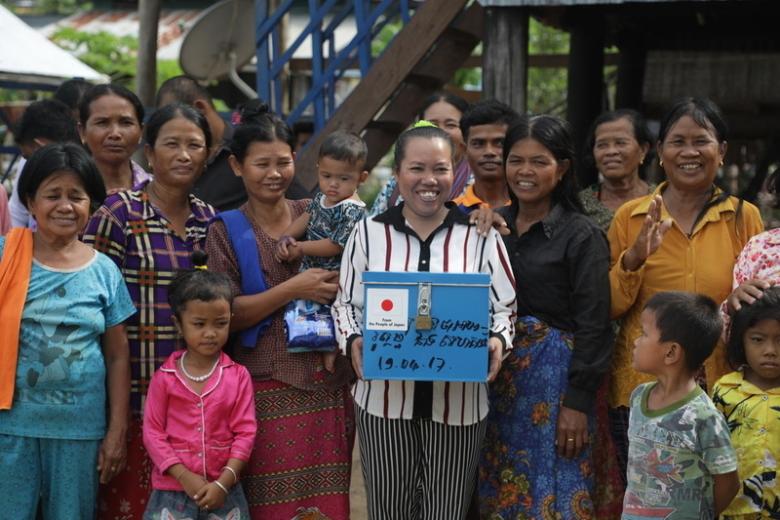 Healthy Box Saves Newborn
Friday, February 22, 2019
"My child was experiencing seizures in the car on the way to the hospital. My grandmother, who was with us, said we must take him to the hospital; regardless he might die on the way," explains the 27-year-old Mrs. Lin Nith with sadness in her eyes.
Mrs. Lin Nith lives in Koah Andaet district of Takeo province. She has two sons; one is nine, and the other is just 16 months old. The they live with Mrs. Lin Nith's 74-year-old grandmother. Her 29-year-old husband, Sarat, works on the rice fields spraying against insects.
"When my son was just 20 days old he became weak, and his skin grew pale—I was so worried. My grandmother advised me to take him to the clinic next door. By that evening, he started bleeding uncontrollably from his thigh where the doctor had injected vaccine," said Nith.
My child was experiencing seizures in the car on the way to the hospital. My grandmother, who was with us, said we must take him to the hospital; regardless he might die on the way.
The blood flowed into the baby's diapers for two days and two nights. After which Nith decided to send her child to the Kirivong referral district health centre, roughly 10 km from her home. This trip would cost her 20,000 Riels (approximately 5 USD) for motorcycle taxi.
At the hospital, the doctor told Mrs. Lin Nith that her child had an atrial septal defect (ASD) and a hemorrhoid that required surgery at Kunthak Bopha children hospital in Phnom Penh.
"To deliver him to Kunthak Bopha on time, I needed to hire a car with a driver which would cost 400,000 riels (approximately 100 USD). It was an enormous expense for my family at an extremely difficult moment. I really didn't know how to find the money to save my son—I was so frustraited."
"Fortunately, I learnt that my community had a Healthy Box that allows vulnerable families to borrow money for health-related emergencies that we can repay at any time without interest," she added.
This particular Healthy Box was established in her commune in 2017 under World Vision's Improving Maternal and Child Health (IMCH) project. This initiative supports newborn children and their mothers of vulnerable families who are burdened by unexpected health-related expenses including commuting to public health service and food. Community members, who  is the Healthy Box committee, manage and administer this initiative. To date, 165 families in Nith's community have become Healthy Box members, contributing 1,000 Riels (approximately 0.25 USD) each every month to this community fund.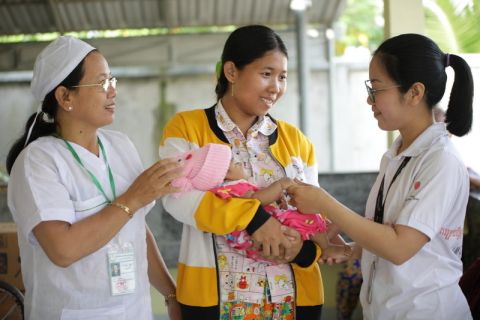 The IMCH project is funded by the Ministry of Foreign Affairs (MOFA) of the Government of Japan and implemented by World Vision in collaboration with the Royal Government of Cambodia's Ministry of Health, Ministry of Rural Development, Takeo Provincial Health Department and two Operational Districts in the province. IMCH has been implemented in 24 Health Centers. With additional support from 578 village Health Support Groups, this partnership has made significant contributions to the reduction in maternal and child morbidity and mortality in Kirivong and Koah Andaet in Takeo Province.
I weep, and I wailed as I prayed.
Nith and her son arrived in Phnom Penh with the support of Healthy Box community fund; but young Sareach was unconscious and still seizing despite blood transfusion and intravenous fluid. "I weep, and I wailed as I prayed," recalled Nith. 
After thoroughly examining Sareach, the doctor suggested the family wait for a specialist from abroad to perform the risky procedure. As a result, Nith and her young son had no choice but to stay in the hospital. During the subsequent weeks, the family was burdened by the cost of food and travel despite their Identification of Poor Household (IDPoor) status which mercifully coved hospital expenses.
After hospitalisation, Nith's son is in better condition though operation and monthly follow-up are still needed.
Mr. Pov Visal, a Healthy Box committee member, said, "the fund has grown to 1,900,000 Riels (approximately 475 USD) in its second-year thanks to member contributions and donations from the community."
Nith told World Vision staff, "I am grateful that the Healthy Box could lend me money so easily during my difficult time. I have joined Sahakum Kon Laor (SKL) that teaches me how to make nutritious food for my children. Now my son has grown. He can walk, he can run, he can say mommy and grandma—I am so joyful." She continued with a bright smile, "I am really grateful for the Healthy Box. I hope that it will be sustained in my community so that I can borrow the money I need to follow up on my baby's health in the coming months."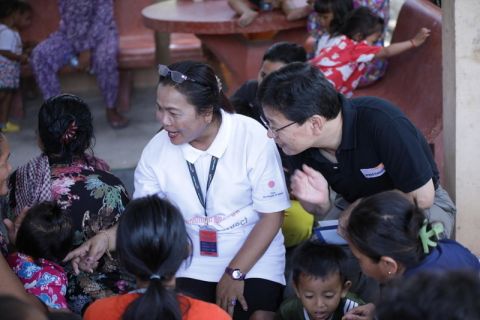 "I would also like to thank the People of Japan and World Vision for helping to establish the Healthy Box in my village so that my family and others like us can have a healthier life and can go to the hospital in case of an emergency," said Nith.  
This story is written by Makara Eam, a communicator with World Vision.