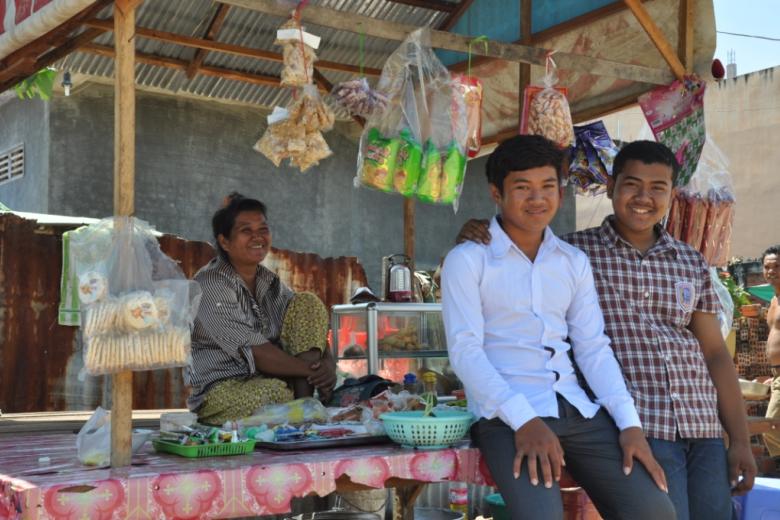 Kanal and Samnang Are Away From Tragic Experience
Tuesday, February 4, 2014
As the sun set, 15-year-old Samnang and his 12-year-old brother marched to the vegetable market. Their night had just begun.
From 7pm to 5am, Samnang and Kanal waded into mounds of vegetable waste. They searched for useable bits of lettuce or other vegetables and carried it to vendors who sell ingredients for Chinese food.
In a night, the two boys would earn about 25,000 to 30,000 Riels ($6.25 -7.50 USD). Each trip to the market cost about 7,000 riels ($1.75 USD), leaving the brothers with about $5 USD for their labour – money they would hand over to their mother when they got home.
NO CHOICE 
Samnang and Kanal didn't have a choice. Their mother worked in a laundry but suffered from diabetes and high blood pressure. Because of her chronic diseases, she had to quit working. The boys' father had died when Kanal was just a few weeks old.
At the age of 12, Samnang was forced to drop out of school in Grade 5. His younger brother Kanal stayed in class, but worked too.
"When we came back from the market what I did first was go to sleep as fast as possible," Kanal says. "I went to school mostly late and sometimes I slept in the classroom. Sometimes teachers punished me by ordering me to stand outside the classroom due to this lateness."
Samnang and Kanal are now 17 and 14 years old. Their bodies are stronger than normal for their age. The family wished someone would help them escape from this horrible situation.
In Khmer language, Samnang means "lucky" but luck only followed Samnang after he met World Vision.
"One NGO (non-government organisation) staff came to interview me and my mother. I wondered what they came for if they did not help us," Samnang says.
"A few days after she brought us rice, clothes, dry fishes. We were so happy," Samnang says.
"I received new student uniforms and bicycle from World Vision. I am so glad," Kanal says.
After World Vision offered assistance, Kanal and Samnang stopped working at night. Kanal no longer is late going to school and can pay attention in class.
Kanal is now studying at secondary school at urban zone of Phnom Penh capital. Kanal loves to draw buildings especially his dream house.
"I want to be an engineer,"Kanal says.
For Samnang, he has dreamed to have skills in order to be able to earn money for living. World Vision supported him to learn how to fix televisions and radios.
"My dream becomes true. I really love this skill," Samnang says.
MOTHER IS THE WAGE-EARNER AGAIN
The boys also take comfort knowing World Vision provided some start-up capital for their mother to run a micro-business at their home.
On a bed with a corrugated roof, there is sugar, candy, crackers, crisp, green mangos, MSG and other ingredients, and bitters. Their mother sells these items during the day. In the early morning, they help the mother to cook and sell porridge.
"I am able to earn 70,000 riels ($17.50 US) including profit and capital a day. It can helps us to buy food," the mother says.
In addition, World Vision supported them to build a proper shelter made with wood and corrugated steel panels. Unlike before, they don't worry about how to pay the rental fee every month.
World Vision's Street Children Transformation Project continues to work with children and has helped more than 2,000 children living and working on the street in Phnom Penh since 1996. The project is formed to increase protection for children from all kinds of abuse, to provide short-term shelters to children living on the street, to help children to resume their schooling and to integrate them with their family.