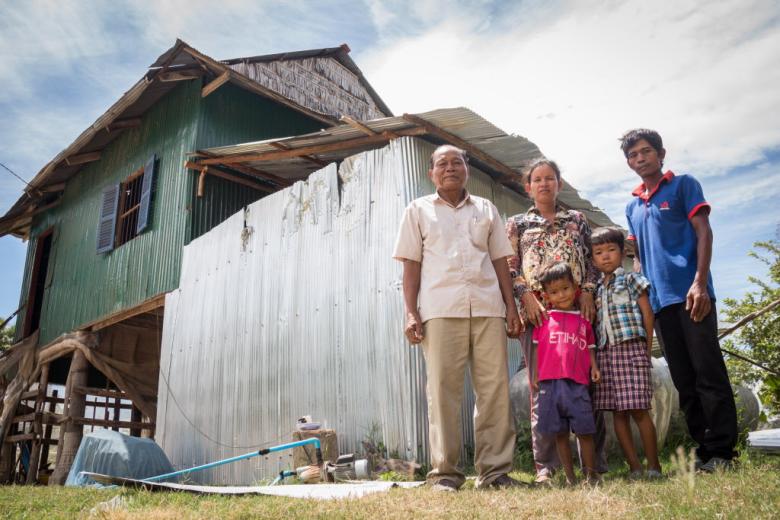 Knowledge for life: Natural disaster action in northern Cambodia
Friday, October 2, 2015
"My mum told me to put a knife in the stove," says Phally Prum as she describes folklore believed to stop strong winds in Cambodia's northern region of Borey Chulsa.
Chheng Chim, the 66-year-old local chief learned the same lesson from his mother. "The knife is placed upright with its sharp edge facing the direction of the wind," he says. "We believe the knife can cut the wind and stop its power." 
A mother of eight and five-year-old boys, Phally faced life-threatening winds for the first time in July 2015 as she, her husband, older son and younger sister rushed to finish their work in the cucumber field before the dark clouds came. 
As farmers, the family depend on rainwater to survive. "We were happy to see the rain was about to come," says the 35-year-old, who was still working when the winds showered the group with leaves torn from mango trees 300 metres away.
Enjoying the rain, Phally heard a voice from her house: "Mummy, Mummy! The tree's fallen down! Our house is going to fall down too!" The cry was her son's; the terrified boy standing naked on the bamboo bed under their home with its corrugated zinc roof flapping on top of two-metre wooden pillars. 
"I was so scared and thought about what might happen to us," she adds. "I immediately thought of the cowshed as a safe place for us to stay."
The multi-pillared cowshed is under the house.
Describing the violent winds, Chheng Chim says, "I've lived in this community for over 30 years and that was the first time that's happened. My mum told me to scatter rice. If this had happened to her, she'd have used a basket of rice to chase the danger away."
Cambodia suffered six major floods and three serious droughts in the last decade to 2013, a history convincing enough to establish a nationwide strategy for natural disasters to avoid and mitigate the risks of disasters and plan responses.
Cambodia suffered six major floods and three serious droughts in the last decade
World Vision is training regional leaders to improve disaster preparedness at the local level.
"If I hadn't been to the [World Vision] training beforehand, I would've been stressed on the day [of the storm] and wouldn't have known how to respond or how to cope with the disaster," Chheng Chim tells. 
"I phoned the village chiefs, who are under my supervision." he tells.
"I visit places that have had incidents and collect information. I report to the director of the health centre, the school head and the police to take action," he continues. "All of us know our duties and how to respond. We acted quickly; we didn't wait for two or three days."
"Just a few days later, we had support from other NGOs and the government to help surviving families," he says. In that time, damaged houses were fixed and families received primary aid, such as zinc roofing sheets, emergency cash and essential food.
Currently, Chheng's focus is raising awareness of how to minimise destruction during severe weather events. "You can use metal wire to tie pillars of your house to poles in the ground," he tells Phally, describing methods of preventing wind damage.

World Vision's project means vulnerable people in Cambodia's disaster-prone areas of Borey Chulsa, Koh Andeth, Preah Netre Preah, Sangkat Boeung Tompon, Stoeung Meanchey, Svay Check and Thmar Puok are increasingly resilient to natural disasters.

Through the project, World Vision works with nearly 800 disaster management committees from provincial to commune levels, impacting over 400,000 people in Banteay Meanchey and Takeo provinces and the capital, Phnom Penh.
* Photos by Ratha Ung