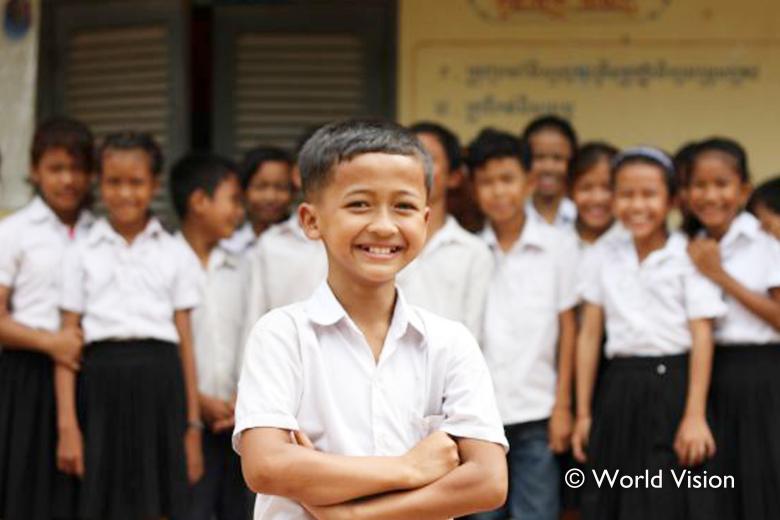 A Leader for Tomorrow
Wednesday, October 8, 2014
Holding a large bag as he steps into a wooden house, 13-year-old Sovang greets 30 children seating in the tables. "Hello everyone," he says loudly. With a clear voice, he asks his students to take out books from their backpacks and plastic bag.
Sovang speaks to them in English and Khmer languages, slowly pronouncing both the English and translated phrases. Pointing to the words on a whiteboard, Sovang asks his students to repeat those words. The students quickly obey their young teacher.
Sovang's talents are hard to spot until he appears in front of the students. Though only in sixth grade, Sovang has already been teaching children aged 5 to 14 from different villages everyday for a year.
"I share my little knowledge with others. I can do it, because I am brave," Sovang says, adding that his students are his biggest motivator.  
Skilled in sharing and teaching, Sovang leads an additional English class. "I want children in my community know foreign language," he says.
Through World Vision's sponsorship program, Sovang has received trainings and school material, such as books, pencils, pens, markers, and boards. He has used these materials for his English class and given them to his students.
Sovang has two younger sisters, aged 7 and 10. His mother runs a local restaurant, and his father is a mechanic. The village chief introduced World Vision to many mothers in the village, including Sovang's mother, who has since attended several trainings.
"Sovang is a great boy, and I hope all children, as well as my children, in this village will be like [him]," says Bunthet, Sovang's neighbor and a father of two, who have been taught by Sovang. "He is smart and a model person in the village," he adds.
"I want to encourage the parents to send [their] children to school and study hard at home and in school," says Sovang.
The more he teaches, the more Sovang has hope for his students. "Education is important because it is good advice and it can provide us [with] new knowledge and [marvelous,] unexpected information," says Sovang.
There is marked difference after World Vision's interventions. "Our children did not have meeting and unity," says Bunthet. Now, there is change in the village. Children receive follow up, and parents pay attention to their schooling.
"World Vision is our important partner. We see now we have many reading centers. And on Saturday and Sunday, the children come up together to play and also help one another to in studying," he adds.
Sovang's students have also been impacted. "He [Sovang] is a good teacher, and it is easy to understand his session. I want to be like him," says one of Sovang's students.
Sovang's mother, too, is proud. "I want him to continue doing this. He is brilliant. I believe in him that his dream will come true. And I encourage him always," she says.
Sovang's dream is to become a doctor, after his aunt was seriously sick and passed away as a result. "I will not stop dreaming," he says. "I will use my dream to cure other people in my community."