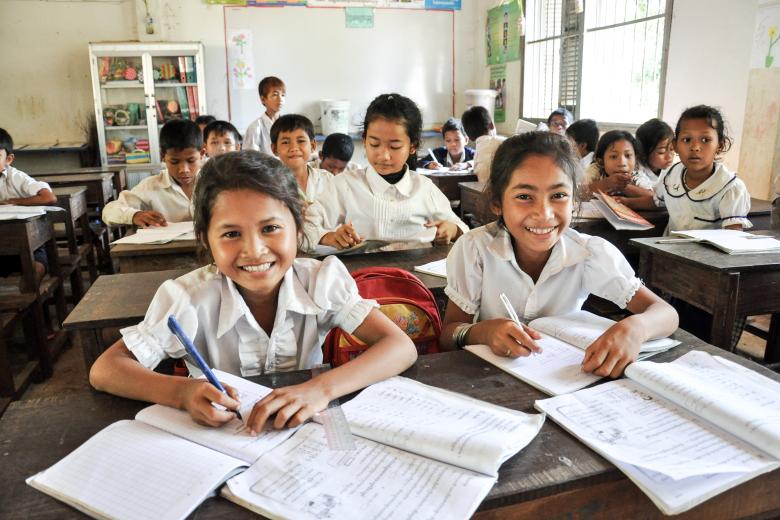 The Little Teacher
Sunday, April 6, 2014
Eleven-year-old Vongsa stands in front of a room full of children.
This grade five girl is giving 30 youngsters – ranging from ages four to 10 – lessons in math, reading and writing.
"At first, Vongsa taught only my older sister's children, her younger sister and brother," says Sophea, Vongsa's mother. "Later on, the neighbours' children came to visit and saw Vongsa's activities. Over time the number of participating children increased."
Every day in this rural Cambodian village, the children gather in Vongsa's tutoring club to review the day's school lessons.
"I have found that they (my friends and other small children) don't understand the session. I lead them to read books," Vongsa says. 
"Activities in my club are similar to what we do in school. The children stand in line as I lead them to sing songs and review math lessons. Then I teach them difficult words and explain the words," Vongsa says.
Being a good student
Vongsa loves studying. She is among the three highest achieving students in her class of 50.
"I want my friends to be outstanding like me and I am open to any questions from friends. I like to do that because I like to share my knowledge with others," Vongsa says.
Vongsa's teacher, Rim Somaly, praises Vongsa.
"She is a good student. She is friendly and helpful. She helps other students to understand the sessions."
Sharing her love of learning
"My mum and my friends encourage me to teach other people. I need to help them to understand the lessons," Vongsa says.
"In the beginning the lessons were taught under the tree and then moved to under the house," her mother explains.
To provide a more permanent structure for after-school tutoring, Vongsa created a proposal and sought assistance from World Vision and the community. The community contributed building material and Vongsa's parents agreed to provide yard space for a classroom building. World Vision also supported Vongsa's proposal.
"The neighbours encouraged me that I have an intelligent daughter and they want my daughter to help their children," says Sophea, Vongsa's mother.
A community changed
Seng Phalla, 30, the local village chief, talks about changes in her village.
"Before children did not join activities in the community like this because we did not have a proper place for them to play, no good leader or educator. They just played individually at home or in a small group. They picked up fruit in a forest or raced bikes. And their parents did not allow their children to participate or a place to run activities. Before children studying in fourth or fifth grade could not read.
"The previous habits have changed. Since Vongsa started the club, she has taught many children. They are able to read now. Learning from school is not enough, family's members and community people need to help them to be smarter and clever. Since having this club, the children have developed according to their age."
Click here to see a photo gallery of children around Asia at school.