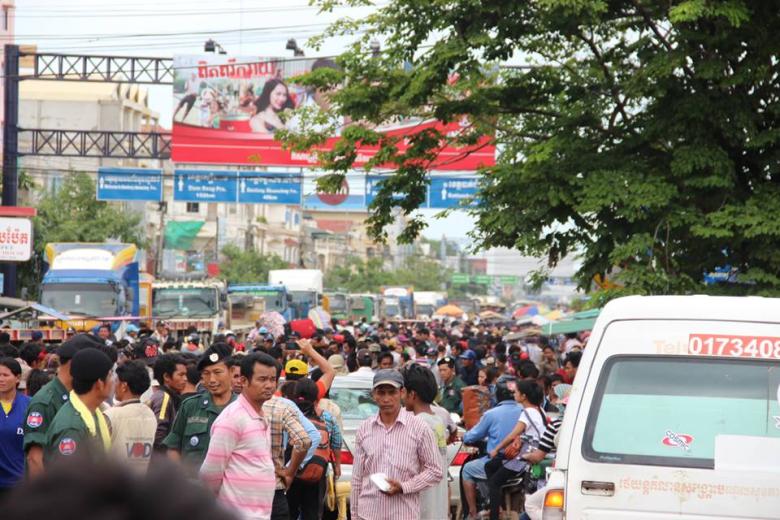 Mass Exodus of Cambodian Migrants, Just One Chapter of Vulnerability
Thursday, June 26, 2014
Between June 6 - 22, at least 200,000 Cambodian workers have fled Thailand back to Cambodia. While the cause of this exodus will continue to be debated, it is clear that it has created an immediate emergency in border areas between the two countries and demonstrates the incredible vulnerability of undocumented Cambodian workers in Thailand.
In border regions, World Vision is providing safe drinking water, food packs, transportation, sleeping mats and sanitation resources for infants, for citizens, as well as mapping the details of returnees to ensure continued support over the coming months. 
Many Cambodians migrate to Thailand in search of employment opportunities, however many do not have the necessary visa arrangements or documentation for working in Thailand, making them vulnerable not only to deportation, but to all kinds of labour exploitation, including human trafficking.
"The fact that so many thousands of workers can flee so fast demonstrates how vulnerable these workers feel on a daily basis", says Jason Evans, National Director of World Vision in Cambodia. "In order to achieve safe migration, which leads to good economic cooperation, there must be increased focus on safe pathways for workers so they are not left vulnerable to this kind of situation again."
Labour migration is not a new challenge for Cambodia; however, this current crisis emphasizes the immense impact the issue can have on the country if left unchecked. World Vision and other civil society organizations have been investing in safe migration programs that help avoid situations such as this, but they remain under resourced and under prioritized by governments on both sides of the border.
World Vision's End Trafficking in Persons (ETIP) Programme is an anti-trafficking project working across 6 countries, 30 districts and 210 communities in the Greater Mekong Sub-region. The promotion of safe migration is one of the major focus areas of the ETIP Programme, along with other areas of focus. In Cambodia, World Vision works to protect victims and most vulnerable people in source, transit, and destination locations.
For many returnees, this mass exodus is just another stage of risk and vulnerability as they seek new income generating opportunities. As result, many may pursue new, and illegal, pathways back to Thailand to re-establish the income they lost during this time and to refill the jobs left vacant in Thai industries that rely on the Cambodian labour force.
Mr. Evans continues, "If Cambodian citizens are not aware of the dangers of illegal migration, and about safe migration processes, they will continue to be at risk of situations like this in the future. World Vision is not advocating for an increase of labour migration, but it is a reality that cannot be ignored as young work forces in Cambodia become increasingly mobile and desperate for income."