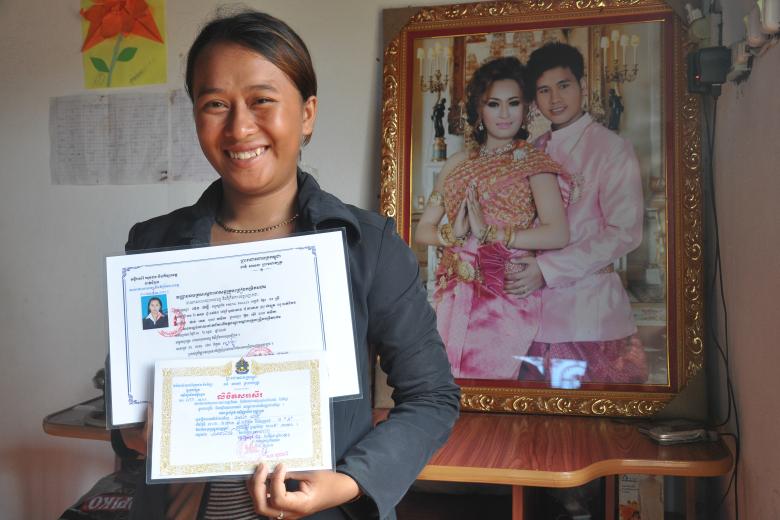 My dream came true
Wednesday, August 28, 2013
When 20 years old Phally Pheng was a young girl, she dreamed of standing in front of many young children wearing school uniforms and act as a teacher. Now, her dream has come true.
"I did not think that my dream becomes truth," says Phally, with her smile showing her crooked teeth.
Phally's aunts and uncle were working as teacher, a career this girl dreamed to be.
"My aunts and uncle wear nice casual clothes when they go to teach at school. Many people, especially young children, respect them," Phally says and smiles at her aunts, who are sitting next to an open window.
Phally was a sponsored child through World Vision from age nine to 17.
"My sponsors wrote letters at least once a year and asked me about my studying," says Phally. "They encouraged me to study hard," she adds.
When Phally was six years old, she and other young children were studying under a wooden building without any walls.
"After the age wooden building was broken, we moved to study under house of our villagers," Phally says.
World Vision was introduced to the villagers in 2000 and contributed to construct a new school building for young students in O Samril commune.
"When I was nine, I moved to study in a proper building with six classrooms. World Vision contributed to development in my community. He [World Vision] built gate, school office and building with six rooms," Phally says.
Phally has become an outstanding student, thanks to support from her parents and sponsor.
"I want next generation get high education," Phally says.
 "I don't think I would be an outstanding student if people around me like my parents and my sponsor did not support or encourage my schooling," she adds. "And without school building, I would quit my schooling long time ago."
Speaking with her smile, Phally says World Vision's staff explained her community people about important of education. "He [World Vision] built road, latrines, wells and help to develop health centre. That is a lot," she says.
Phally has two younger brothers and sisters. Her parents works as farmers, growing bean, cassava and corn, and rear cows and pigs. Through the sponsorship programme, Phally received books, pens, pencils, back pads, school uniforms, soap, toothpaste and toothbrush.
"When World Vision helped my children on these school materials, I was able to save and use money to buy food for my children," says Phally's mother.
 Phally wants to see change in her community. She wants to see all parents understand important of education. This encourages her to love her career.
"I want next generation get high education," Phally says.