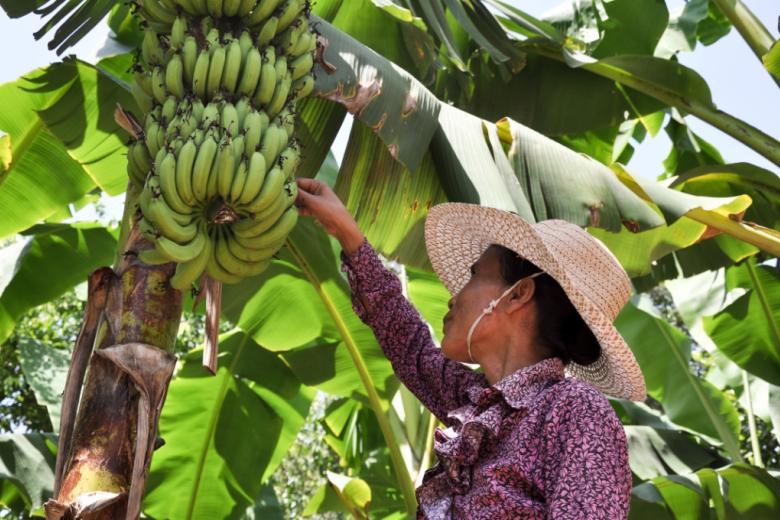 New Hope after Nightmare of HIV
Friday, November 29, 2013
Getting married to an honest man is a dream of many woman in the world. However, a storm of three letters - HIV - smashed Lida's dream of happiness, took her husband away from her and her daughters.
Sitting on a plastic red chair, putting both hands on a wooden bed and wearing a long sleeves shirt, Lida says, "I wondered why my husband had a strange disease. He had diarrhoea for many days and bruises on his thighs."
Lida suspected that her husband having HIV disease since an older brother of her friend had almost the same diagnoses and died from AIDS.
In 2001, Lida's husband was severely sick and had some suspicious symptoms. Six months after, he died.
"I was too late to help my husband's life, because we did not have drug (ARVs) to prolong life," Lida says, adding that she was so shocked having heard the truth that her husband was HIV-positive.
After her husband died, Lida was introduced to World Vision through a village health volunteer. Lida and other PLA (People Living with AIDS) joined World Vision training and learned how to take of their health, running micro-enterprise, agriculture, and cash management. Lida and other participants are also trained in home gardening and animal rearing.
World Vision also provide some budget for Lida and other PLA so that they can save money for travelling costs to get ARV drug at the health center and reserve it for any emergency cases.
"We want to see a better life of PLA, which contributes to child well being outcome," says Thano, project manager for Orphans and Vulnerable Children (OVC), project working with PLA through livelihood development.  
"Without World Vision, my life would be worse which is difficult to imagine," Lida says, adding that World Vision also provide her rice, cooking oil, salt, instant noodle, soya juice.
In 2006, Lida met a special assistant to help the family. She married her second husband who loves and cares for her so much.
"He always reminds me to take my pills [ARV] regularly. He says that I can forget doing everything except having pills," she says.
Lida works hard on the land around her house. She uses agriculture skills that she learns from World Vision training.
Behind her house, there are banana, papaya, lime and jackfruit trees. She plans to grow more lime trees since lime has good market price. Beside this, she plans to develop micro-enterprise business at home.
"I will develop a grocery store in front of my house. I can make it happen in several months," Lida says with hope.
"My older daughter wants to be a beauty store. I will save money for her to learn the skill and then having a store," says Lida, adding she dreams to see her youngest daughter become a nurse or pharmacist. 
*Lida is not her real name.