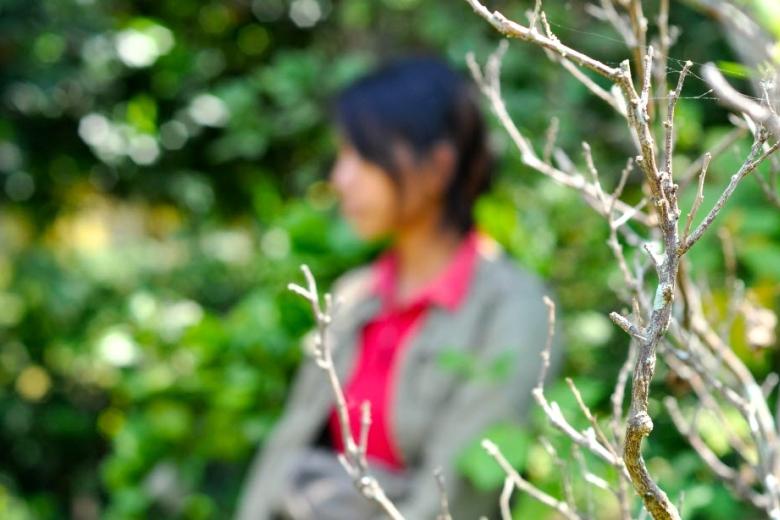 Rescuing Pannha and her baby
Tuesday, December 16, 2014
"They scared me that If I ran away, they would kill me and sell my baby," says Pannha*, 25, sitting on a long wooden bench as she elaborates her story when she was trafficked to Malaysia.

In June 2012, a distant relative lured Pannha to work in Malaysia as a sewer. Being alone with a five-month-old baby, she was hopeless because she was so poor and wished to improve her living conditions. Pannha knew about human trafficking and she hesitated to go, but she had reasons.

"First, I am poor. I thought that it is good to have a job. Second, I would go legally with passport, thus they would not cheat me. Most important, he is my relative, he would not cheat me," says Pannha.
Because she was unclear about what the passport should look like, she supposed that it was real.
Every day, she and her baby were dropped off early in the morning and brought home around midnight. Pannha and the baby worked over 10 hours a day.

"I got up early at 4am and rested for lunch at 11am. I resumed working at 1pm till 5pm, and from 6pm to 11pm. Sometimes, I slept at 1 or 2am," Pannha says.

One day, she was given an umbrella, a bag and a metal bowl, and brought them to the market to work as a beggar.

"I was shocked and I rejected doing that job. But, if I did not do that job, they would force me to pay them back the money that they gave to the seller [trafficker] and also the amount for travel expenses," Pannha says.

"I did not deserve to fall in this trap, but unfortunately I did, and I had to endure this," Panha says with upset face.

At the beginning, the baby could not get used to being in such a crowded place.

"She cried and cried. I pitied her," Pannha says about her baby.

Each day Pannha was able to earn 200-1,000 ringgit (60.30-301.30 US dollars). Pannha could not keep this money. The traffickers took all the money and they told her that she had to pay them back the cost of transportation to markets, housing, electricity, food, bowl, umbrella, bag, water supply and the rest for paying debt – even though she had never borrowed any money from them.
She was threatened when she earned less than expected.
One day, police arrested Pannha and detained her and the baby for four months and five days while the five traffickers were also arrested.

"I don't know reason I was kept in jail for long, but they [traffickers] were only a week. Maybe because I had no money to pay for them [police]," Pannha is curious about this.

Life in jail

"I thought that if I would not in jail, I might be a slave for life," Pannha says.

Pannha was allowed to telephone home when she was detained, and she told the mother about her situation. Pannha's mother complained to the village chief. But because the chief's belief in the relative the trafficked Pannha, village chief did not take any action and ignored the situation.

During her fifth month in jail, Pannha received a clue.

"One day a man came to ask me why I came to Malaysia and how. I answered to him that I am cheated to find a job and now I wanted to go back home," she describes.

After that, Pannha was asked to fill some information about her personal profile like address and name in Cambodia. Thanks to Pannha being able to write and read Khmer language, she was able to fill in her profile.

Nearly a month later, staff from SISHA, an anti-trafficking organisation, came and bought her an air ticket home.
How did she get into the trafficking trap?
Before she left Cambodia, Pannha was called to Phnom Penh to get a passport, where she was introduced to a woman. Unfortunately she did not get a real passport, but she was given a handbook that
said
it is a passport with her photo and her daughter's photos inside.
"I used to see passports in red, but the one she [one of the traffickers] gave me is white. I wondered..." Pannha recalls.
Because she was unclear about what the passport should look like, she supposed that it was real one even though she did not have a claim to get a passport nor meet any immigration offer.
Pannha and her daughter left Phnom Penh at 9pm with the woman.
"I stay at Poi Pet [Cambodian-Thai border check point] a night and then headed to Bangkok. When I arrived in Bangkok, there was another woman who took the train with me," Pannha says.
Arriving in Kuala Lumpur, Pannha was handed over to another man. She and her daughter continued to travel to further into Malaysia.
By the time she finally reached her destination, she was introduced to another three traffickers. In total, there were six traffickers involved in Pannha's case, two in Cambodia and four in Malaysia.
Recovery from this bitter experience
Through the End Trafficking in Person (ETIP) Programme of World Vision Cambodia, Pannha received counselling.
"Beside providing counselling to them [human trafficking survivors], we provide basic needs to them such as food, utilities for farming, or vocational skill in order to stop them from doing migration," says Samnang Long, manger of ETIP.
Pannha wishes to enjoy living in her village, where she is able to grow cabbage around the house with a few mango, coconut, pomelo, orange trees. While picking up June plum next to the water jars, Pannha shakes head and says, "I will not go back [Malaysia]."
*Pannha's name has been changed to protect her identity and safety.