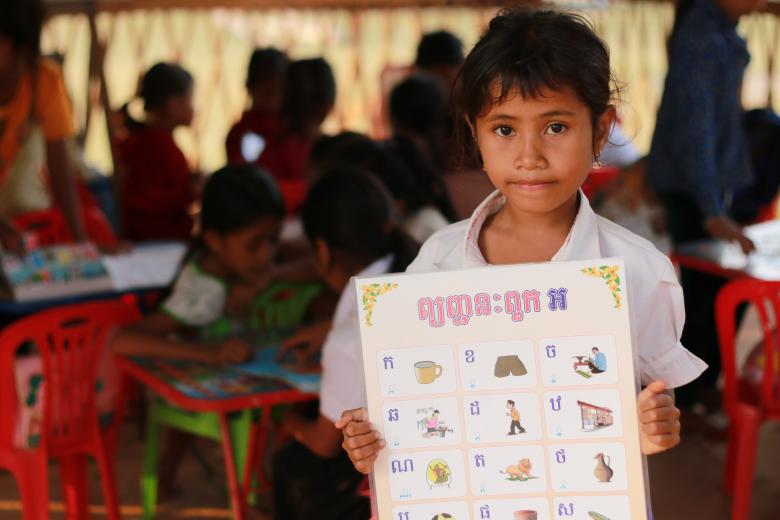 On the right track
Friday, July 17, 2015
"What's this?" asks eight-year-old Sinan to his class of older pupils, who scour the pictures in front of them to find the one matching the word.
"No, that's not right. This is the correct one," he says, pointing at the answer for his friends.
A sponsored child from a farming family, Sinan has a five-year-old sister and is the outstanding student in his youth club, with the boy's hand always first up when his teacher asks a question. "I want to be a policeman," he says.
"Sinan always attends the club's activities. He's brilliant and encouraging."
Chanrea, a 15-year-old organiser of the youth club in Stong district in Cambodia's central Kampong Thom province, says: "Sinan always attends the club's activities. He's brilliant and encouraging."
Not every child is as academically skilled as Sinan, with government statistics revealing 30 percent of Cambodian pupils in grades one to three are unable to read or write.
While technology helps children in developed nations to learn through the internet and smart phone apps for example, many Cambodian households still live below the poverty line and are excluded from such advances.
Recognising this, World Vision has developed an engaging selection of educational games, such as word puzzles, matching challenges and flashcards, to promote literacy and encourage a love of reading among children in grades one and two.
Coined the Total Reading Approach for Children Plus (TRAC+), the set of games has been used by nearly 750 youth clubs and at home and school, with World Vision joining World Education to bring the inventive learning tools to youngsters around the country.
To improve educational quality and foster life skills, World Vision International in Cambodia has worked with almost 740 schools, spurring the development of children and communities, while the organisation trained over 2,200 teachers in 2014 to adopt modern classroom techniques.