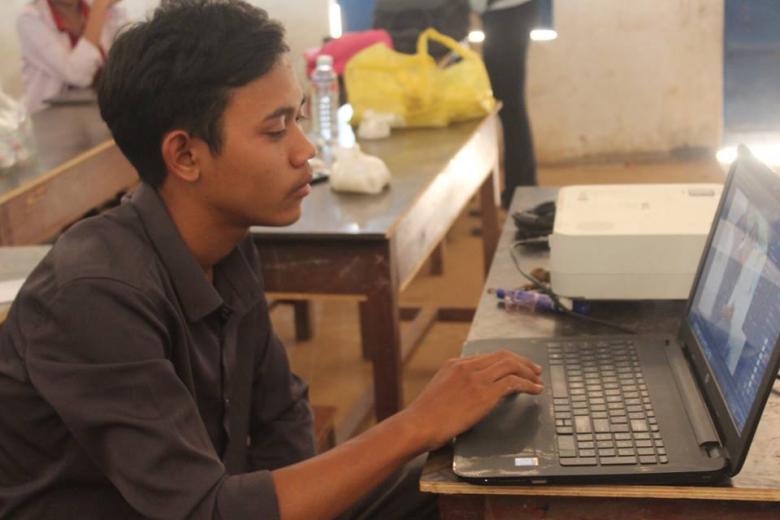 Skills and confidence help Panha follow his creative dream
Monday, July 23, 2018
Eighteen-year-old Panha is in Year 12, and is an active youth club leader in Ponhea Leu, Kandal Province. He describes a major childhood accident with sadness.
"When I was five years old, I had a traffic accident when I tried to cross the road and a car crashed into me. The doctor told my family that he had to amputate my leg from the knee."
"Even when the leg healed it was difficult to walk or run well. If I want to go somewhere I need to wear my plastic leg all the time. It's really annoying and makes me feel embarrassed when I meet new people." 
In 2017, Pahna was encouraged to participate in the World Vision Creative Youth Workshop.
"I felt so happy exploring new technologies such as the DSLR camera, the laptop and tablet. I am so proud that I had an opportunity to learn to use this equipment, and to chase my dream. Through the 3 days workshop training I understood more about digital storytelling, basic photography, camera settings and videography."
My passion is become a filmmaker – it won't matter that I can't walk or run as well as a normal person
"In the beginning it was really hard to produce a short 3-minute video. But I really enjoyed working as a part of team", Panha says.
Panha wants his videos to make a positive social contribution. He has now created his own YouTube channel, and the videos he makes for it are largely educational. They are intended to help others explore new technology, such as cameras and mobile apps.
He says, "Sometimes my friends suggest I make a video that will help them, such as how to frame good photos or videos. It is exciting to share my knowledge and experience with people, and it makes me feel like a good person. It's a really different perspective from before."
Panha adds that the Creative Youth project didn't just help his video-making skills – it expanded his social network. "I also got know other young people in different provinces such as in Kampong Chhnang and Kampong Spue."
Panha is keen to continue developing his creativity and technical knowledge. "I have decided that once I graduate from Year 12, my goal is to continue on to film school. My passion is become a filmmaker – it won't matter that I can't walk or run as well as a normal person."
World Vision commenced its Creative Youth project in 2015. Since then, it has equipped over 780 young people with the communication and technical skills to make their own videos. This has enabled them to tell their own stories through cameras and social media. 
This story is written by Makara Eam, a communicator with World Vision.