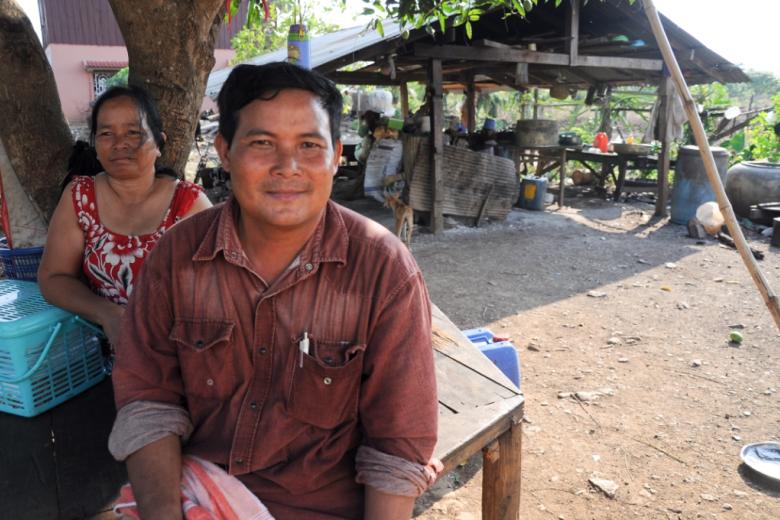 Sophal, A Poverty Survivor
Thursday, October 17, 2013
Sophal and his family moved to Cambodia in 1998 from a Thai refugee camp and lived in Romchek village, Tasagn Commune, Samlot District. He received a plot of land (50m x 200m) to build a house, and three hectares to start a farm.
"I had neither money nor rice for my young children. Some days, we had rice with salt only. My oldest daughter dropped out of school. She worked so hard to earn money to support me and her younger siblings," Sophal says.
Because of the hardship and living with a disability, Sophal wanted to commit suicide.
"I really did not want to face my circumstances, so I wanted to commit suicide every time I was alone. Thanks God I met World Vision and my life completely changed," says Sophal.
World Vision has worked in the community in Samlot programme area since 2000.
"I was invited to join the meeting and trainings on animal raising, land usage, seed usage, and pesticide and fertilize usage," Sophal says.
Moreover, World Vision mobilized the community people to form saving groups, where members can use a loan to generate income through agriculture activities. The members can use the loan to buy seeds, petroleum, and fertilizers. In 2012, World Vision worked with community people to upgrade the Saving Groups into Agriculture Cooperative (AC) Group. For sustainability for the group, World Vision worked on building capacity of AC members on leadership, monitoring and evaluation, human resources, management and bookkeeping.
Sophal is one amongst many members who has taken the loan to plant corn, cassava, sesame, soya bean, and other vegetables according to the season. Moreover, Sophal also received 10 chickens from World Vision to raise. His family life has improved, and he became a Village Development Committee Leader and a member of Agriculture Cooperative Group.
"I want to see all the children enjoy fullness of life, while my oldest (Deputy Director of Tasagn Agriculture Cooperative Group) is eager to see change in the community. I am not worried about anything. We are focusing on farming and increasing yield to supply to demand markets.